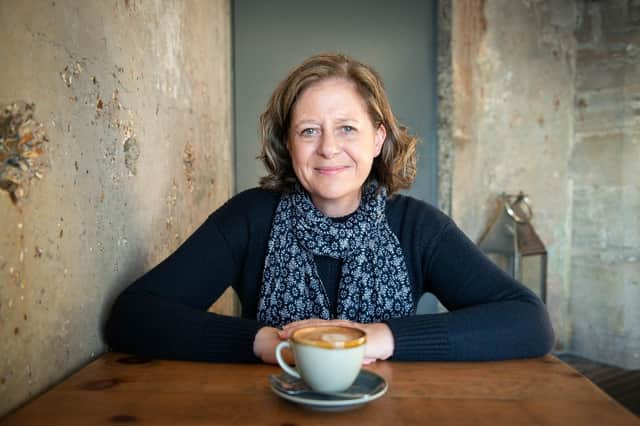 Susan Bonnar runs The British Craft House
Ex-Navy officer Susan Bonnar, from Lee-on-the-Solent, started The British Craft House, a website supporting hundreds of independent crafters around the UK, last year.
Now, she has been selected as part of this year's Small Biz 100, a national campaign highlighting some of the UK's most inspiring small businesses.
Susan said: 'To be acknowledged nationally and be chosen as part of Small Biz 100 this year out of such a small handful of businesses in the country is a real honour.
Susan Bonnar runs The British Craft House
'I'm proud to have created a site that supports so many crafters around the country turning helping them turn their hobby into their livelihoods.
'Small Biz 100 has provided great value to small businesses across the UK during lockdown and is a great opportunity to showcase ourselves.'
Susan, who is originally from Plymouth and spent more than 22 years in the navy, started her business inspired by her 15-year crafting hobby.
Susan Bonnar (centre front) at a gathering at The Osborne View on Hill Head Road, Hill Head, Fareham for sellers and supporters of The British Craft House
She started making her own cards in 2005 at home with her small children while her husband, also a Royal Navy officer, was at sea, often on long deployments.
'I never considered crafting could be my full-time job, but card and album sales took off in shops and online and by the time I had my third baby I decided to leave the navy,' she said. 'My passion became helping others and bringing together people who spend hours crafting something unique and help them drive it into a business.'
Small Biz 100 gives a profile boost to a different small business each day for 100 days building up to Small Business Saturday on December 5.
The 100 firms selected will then be celebrated further at an event on October 9.
Susan Bonnar of The British Craft House
Michelle Ovens, director of Small Business Saturday UK, said: 'Congratulations to The British Craft House for joining the Small Biz 100.
'This campaign highlights the amazing, positive impact small firms have on communities across the UK.
'Given the phenomenally tough time small businesses have had, and the special role they played supporting communities in lockdown, it's vital we continue to support them as this crisis continues.
'This year's Small Business Saturday is going to be the most important one yet, and we're determined it will also be the best'
Now in its eighth year in the UK, Small Business Saturday has grown significantly each year, with a record turnout of 17.6 million people choosing to shop small on the day last year, generating an estimated £800m.
The British Craft House lists more than 170 businesses and 3,000 products.
Find out at thebritishcrafthouse.co.uk