First cohorts complete University of Portsmouth's Help to Grow course
In the latest Business Talk column from the University of Portsmouth, we look at a special course designed to help SMEs boost their business's performance, resilience, and long-term growth.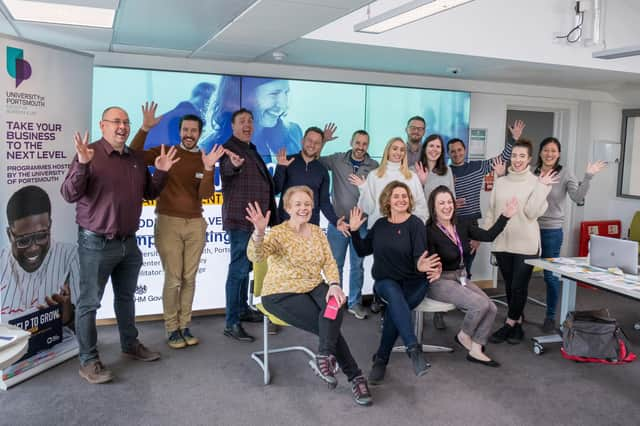 The first cohorts have completed the University of Portsmouth's Help to Grow course for SMEs
When Chancellor of the Exchequer Rishi Sunak announced the government-funded 'Help to Grow' scheme back in the March Budget, the Small Business Charter received more than 1,000 enquiries from senior managers and leaders of SMEs for the scheme, which started in June.
'Help To Grow: Management' is a 12-week programme available via universities, including Portsmouth, across the country, with start dates throughout 2021 and 2022.
The first cohorts from the University of Portsmouth have now successfully completed the practical programme and gave their insights into it.
Rosie Boullin-Barrett, Director of Finance for Seacat Services, said: 'This is a thought-provoking and detailed course, with relevant content in a fantastic mixture of online and in person teaching, allowing you time to work as well as improve skills.'
Matt Jeffery, CEO at Brightbulb Design, added: 'My first meeting with my mentor gave me a lot of takeaways that I instantly acted upon.
'For me there are structures I didn't know existed that I can now look to develop within my business. Learning from my peers has also been of huge benefit to me.'
Geoff Wilkinson, Managing Director of Wilkinson Construction Consultants Ltd, said: 'The programme offers incredible value for money - you don't get the opportunity to get world-class business support and mentoring every day, so grab it while you can.'
If you're a senior manager in a small to medium-sized business looking for a programme and support to help you meet today's business challenges, then you can find out more at https://www.port.ac.uk/help-to-grow
Developing technology for maritime maintenance
Portsmouth-based Subsea Craft and the university have begun work on innovative technology to help predict maintenance work needs on marine craft.
The partnership, funded by Subsea and by £220,000 made available by Innovate UK through the 'Knowledge Transfer Partnership' programme, will deliver advanced prognostic technology that can determine when marine craft need maintenance before routine inspections.Scott Verney, CEO at Subsea, said: 'This partnership is not only a great one for Subsea as we continue to develop cutting edge maritime technology, but a good one for Portsmouth as a whole.
'Our ambition is to create a centre of maritime technology excellence at our HQ in the Camber and this work with the university is a huge part of that.'
Using extended reality to boost city's economy
The university's Centre for Creative and Immersive eXtended Reality is leading on a new project to help boost the city's visitor and cultural economy.
The Enabling XR Enterprise (eXRe): Creating skills, boosting communities and benefitting visitor and cultural economy project successfully bid for £628,000 as part of the government's £220m UK Community Renewal Fund.
Professor Trevor Keeble, Executive Dean of the Faculty of Creative and Cultural Industries, said: 'This exciting project brings together local businesses and organisations to support and enable culture-led regeneration in our heritage and visitor economy across the city.'