'Forgotten' University of Portsmouth students slam government over decision on campus return date
STUDENTS have said a ban on them returning to campus for another month is 'ridiculous'.
Tuesday, 20th April 2021, 2:51 pm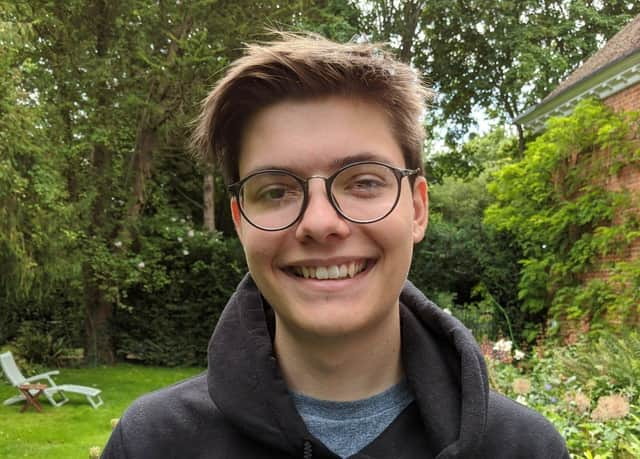 Psychology student Matthew Joslin, 21, has described the decision not to allow the return of face to face teaching as 'ridiculous'.
Non-essential shops, hairdressers, beer gardens and gyms have all reopened, following on from the reopening of school and colleges on March 8.
Higher education students on practical courses are being allowed some face to face teaching – but all courses can only return from May 17.
It's a situation which has left many University of Portsmouth students feeling angry and confused.
Pyschology student Tabitha Walker, 22, has described the proposed return date of May 17 as 'pointless'.
Third year psychology student Matthew Joslin, 21, said: 'I can go and get a tattoo and be closer to the tattoo artist than I can to my lecturers. It's ridiculous.
'The government has been very contradictory. They've always said they're putting education first but – as they have throughout the pandemic - they seem to have forgotten about university students.
'This last year has been a real struggle to motivate myself.'
Marine biology student Imogen deAntiquis Spence, 21, is concerned a lack of face to face teaching will result in her degree being devalued by employers.
It's a sentiment shared by fellow psychology student Tabitha Walker, 22, who added: 'You can go into a busy pub beer garden, get your haircut, yet you can't go into a university building – despite all the safety measures they have in place.
'It's a bit of a joke. My university experience has not been what I expected. If I wanted to do an online degree then that's what I would have signed up for.
'The lecturers have done all they can with remote learning but this is not what I paid for.'
Both students are also annoyed by the government's lack of understanding in targeting a return date of May 17 – a date when most courses are finished for the year.
Tabitha added: 'What's the point? My course will be all but finished. It's all really confusing and almost as if the government don't know when universities' terms start and finish.'
Students are also concerned their degrees may be devalued by prospective employers.
Third year marine biology student Imogen deAntiquis Spence, 21, said: 'My course is science based and I need to be in a laboratory, but for over a year I have not been able to do so.
'I don't feel like I've learned all the skills and feel at a huge disadvantage. I'm concerned that future employers will look at when I graduated and question the quality of my degree.
'I know other students are in the same position but will employers favour those who qualify before and after me?'
The announcement of May 17 as a target for the return of on-campus teaching has also angered the University of Portsmouth vice-chancellor, professor Graham Galbraith.
He said: 'This date is after many universities will have finished their teaching year and shows a government with a cavalier disregard for details.
'This isn't good enough.'
Universities minister Michelle Donelan said the roadmap was taking a 'cautious approach to the easing of restrictions'.
She said: 'The movement of students across the country poses a risk for the transmission of the virus – particularly because of the higher prevalence and rates of transmission of new variants.'
A message from the Editor, Mark Waldron