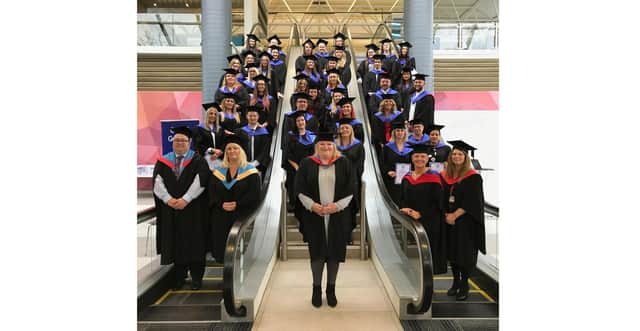 HTP apprentices on Graduation Day in Portsmouth with Principal Rachael Randall (front centre)
Our experienced and super-friendly team works with employers in Portsmouth and across the south.
Our apprentices score much higher than the national average, with 98% achieving a pass at their end point assessment.
Businesses rate us highly too, with 98% of employers recommending us as a training provider.
HTP apprentice Bradley Shilton at Gunwharf Quays
We offer apprenticeships in Professional Cookery, Hospitality & Tourism, Business Administration, Retail, Customer Service, Human Resources, Marketing, Management, Health & Social Care, Teaching, Learning & Assessment.
We work in partnership with great employers such as Portsmouth City Council, Portsmouth Hospitals University NHS Trust, Biscoes Solicitors and Compare The Cloud.
With positions available in sectors including hospitality, health and social care, education, finance, legal and retail, we have a great range of options to get your career started.
Real jobs, with real wages
We can help you find a real job, faster. We liaise with the businesses directly, connecting you with a potential future employer.
Apply now and we'll get to work finding you an apprenticeship that will inspire you.
An apprenticeship is the ideal opportunity if you're getting ready to leave school. You must be in a form of education or training until the age of 18, but that doesn't mean you have to be in a classroom five days a week.
You can get ahead of the pack – an apprenticeship gets you out in the workplace, learning real skills.
An apprenticeship is a brilliant first step into the world of work.
You can use it to discover things you're really excited by and move into other roles and industries.
Although apprenticeships are a great alternative to sixth form and university (without the tuition fees!) they aren't just for school leavers.
Apprenticeships are available to anyone aged over the age of 16, not in full-time education, and eligible to work in the UK.
If your career choice isn't working out and you're ready for a new challenge, try an apprenticeship.
Apprenticeships really do work
Earning a wage whilst studying for an industry-recognised qualification is widely recognised as a hugely effective way of getting started on a great career.At HTP our success rate is even higher than the national average, with 97% of our apprentices remaining in employment after they have qualified.Businesses agree too. Employers want to recruit people with the kind of hands-on skills and experience that you'll learn as an apprentice.
Let us help you to make your own decisions
HTP's experienced tutors and staff help hundreds of young people every year to carve out their individual career paths. You know yourself best – and we can help you unlock your potential and give you new options.
Talk to us today! Call HTP Apprenticeship College on (023) 9237 4752 or visit htp.ac.uk.