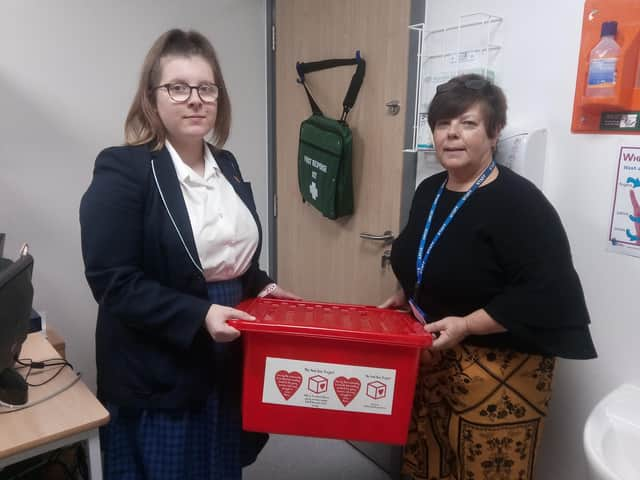 Castle View Academy Year 10 pupil, Ellie Cotton-Trevarth and medical welfare officer, Janette Levers, alongside the red box which provides free sanitary products and underwear for girls suffering from period poverty.
The chancellor is set to announce next week that the tax on women's sanitary products will be abolished from 2021.
While the rate is below the standard 20 per cent VAT on most goods, sanitary items are still being taxed at the 'luxury' goods rate of five per cent for those items deemed not to be essential.
Campaign groups have welcomed the news that taxation on sanitary products is set to be abolished. Photo credit should read: Andrew Milligan/PA Wire
The tax has long been an issue of contention as period poverty has become a growing concern. The issue has been cited as a key contributory factor in young girls and teenagers not attending school.
Figures from the girls rights charity, Plan International UK, said that one in 10 girls between the ages of 14 and 21 in the UK have been unable to afford sanitary products, while 49 per cent have missed an entire day of school because of their period.
To tackle the issue, Castle View Academy introduced its Red Box Project to provide free sanitary products, underwear and tights to girls whose parents cannot afford them.
Medical welfare officer Jeanette Lever welcomed the news the tax is to be axed but she feels more needs to be done.
She said: 'This is welcoming news that the UK's tampon tax is being abolished. This will help towards the fight of period poverty.
'However, despite the growing recognition of period poverty we still have a way to go and are still waiting for the Government initiation to implement free products to schools.'
She previously said: 'For many girls this can be a real issue and they would choose not to come to school rather than feel embarrassed.
'I know many families in the local community who simply can't afford to buy such products.'
Campaigner Laura Croyton said: 'The government will finally end the tampon tax.
'This is amazing and such a cause for celebration. So many people have been campaigning about this for generations and finally we're being listened to.'