University of Portsmouth team up with global name to boost women's sport
University of Portsmouth researchers have worked in partnership with sportswear giant adidas to help tackle the significant impact of poor support on women's sport participation and performance.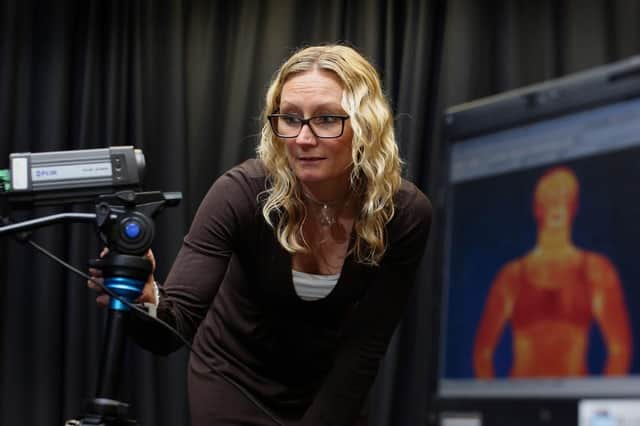 From sport bra engineering to in-kit period support, adidas has partnered with experts in the field to deliver best in class product solutions ahead of this year's Women's Football World Cup tournament.
This includes working with the University of Portsmouth's Research Group in Breast Health.
Breasts can bounce up to 11,000 times during a football match, reinforcing how adequate breast support is imperative to helping avoid distraction, discomfort and potential damage.
The correct support and fit are uncovered by analysing individual shape and physical sporting demands; ensuring comfort remains central.
In collaboration with Professor Joanna Wakefield-Scurr, head of the Research Group in Breast Health, players will be offered a sport bra solution including some of adidas' most technical designs yet.
The Research Group in Breast Health, who have previously provided bra and breast health advice for the England Lionesses, uses its expertise in breast biomechanics to improve scientific knowledge of breast health, inform the development of breast related products and raise awareness of this important aspect of women's health.
Professor Wakefield-Scurr said: 'I am delighted that we are making significant strides in raising awareness of the importance of breast support.
'With initiatives like this and Treasure Your Chest, girls and women are now understanding that wearing the right sports bra can cause reduce damage and improve discomfort, and as a result impact their overall performance.
'We're proud to be working alongside adidas, who continue to invest in sports bra research and development and independent scientific testing.'
Claudia Scholl, Senior Product Manager at adidas, explained: 'Football can be very physically demanding. Breasts can move up to 19cm in high impact movements, players can make 100 sprints in a game where they reach in excess of 20KM/h4, so a correctly fitting product is essential.
"That's why we are ensuring our teams get access to 1:1 fittings, technical sports bras and discreet period support; each rigorously tested in our innovation labs alongside athletes.
'This is an essential part of removing barriers to the sport uniquely faced by women – and just one of the ways we want to create pathways to sport at every level.'
The kit bag is special not only for the innovations within, but for the scale of its support – offering over 1,500 per cent more women specific apparel, hardware and footwear to women's teams than in 2019, taking athletes from training through to when the world is watching.
The ninth FIFA Women's World Cup is being held in Australia and New Zealand between July 20 and August 20.
It is the first women's World Cup to be held in the Southern Hemisphere, the first to be hosted by two countries, and the first FIFA senior competition for either men or women to be held across two confederations.
Holders United States have won the trophy four times, with Germany (2), Japan and Norway the other former champions.
England, the current European champions, were third in the 2015 World Cup and fourth four years later.