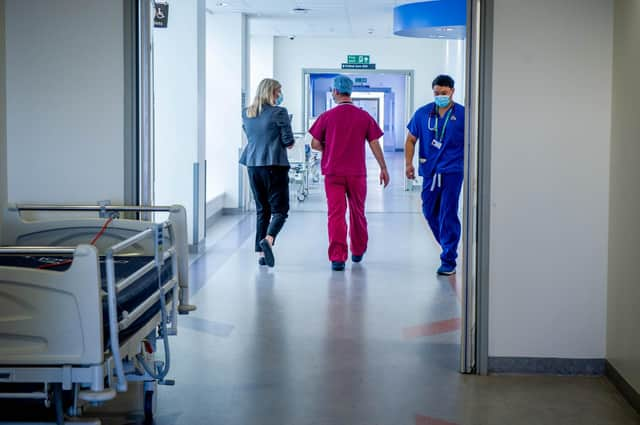 QA Hospital in Cosham. Picture: Habibur Rahman
The recent announcement that the Department of Health has recommended a one per cent pay rise for nurses was met with backlash from NHS staff and members of the public.
This week saw representatives of several unions calling for the nation to take part in a sarcastic slow hand clap in protest of the proposed pay rise – one aspect of a proposed wider campaign to put pressure on the government.
Jon Woods, chairman of Portsmouth TUC, said: 'I think people can see the injustice of this pay rise, and NHS staff are really angry.
'The majority of people think one per cent is an insult. This clap will be the beginning of a campaign that will build until the government gives in.'
The slow hand clap was held on March 11 to mark the first anniversary of the World Health Organisation declaring Covid-19 a global pandemic.
Stuart Fegan, senior organiser for GMB Southern Region, said: 'We're trying to keep pressure up on the government ahead of the pay review.
'There's tremendous public admiration for NHS workers, for clinical and non-clinical staff - polls show that people think that this proposed pay cut is derisory.
'The government should be investing more in supporting our NHS staff. The narrative of "we just can't afford this" is completely false.
'The NHS budgeted for staff to receive a 2.1 per cent pay rise which does not seem to be an excessive or exorbitant amount.'
The Office for Budgetary Responsibility predicts that due to inflation this year, the one per cent pay rise would in fact amount to a real terms pay cut.
Dame Donna Kinnair, the Royal College of Nursing (RCN) general secretary, said that the pay rise would amount to only £3.50 per week for an experienced nurse.
RCN is leading a #FairPayForNursing campaign, which includes a petition directed at the Prime Minister.
Patricia Marquis, regional director in the South East for RCN, said: 'There's an awful lot of anger as a result of the government's position.
'People are demoralised by the message it sends, particularly given what's happened over the last year.
'This isn't a competition between NHS workers and other sectors - we believe the government could protect us all, and nurses haven't been paid properly for a very long time.'
Union Unison is calling on the government to better value NHS staff, saying that plans to recruit more staff are not enough to protect the health system and will only have an effect if experienced staff are encouraged to stay with a significant pay increase.
Neil Duncan-Jordan is the regional organiser for Unison, and in this role is responsible for the Portsmouth health branch of the union.
He says that the slow hand clap is the launchpad for a wider campaign to put pressure on the government.
Neil said: 'It is a way of showing the public mood about the one per cent pay rise, a public expression of disagreement and dissatisfaction with the offer.
'This is about how we reward those in the health service for their work over the last year - not just nurses and doctors but also staff like caterers and porters too, who have all played a tremendous role.
'We want to put pressure on the government to make a fairer offer and to respect the efforts that people have made - these people deserve to be financially recognised and properly rewarded.
'This is just the start of more activity and campaigning.'
The slow hand clap is set to be repeated on April 1, the day staff are due to have their next wage increase.
A message from the Editor, Mark Waldron
You can subscribe here for unlimited access to Portsmouth news online - as well as fewer adverts, access to our digital edition and mobile app.
Our trial offer starts at just £2 a month for the first two months.