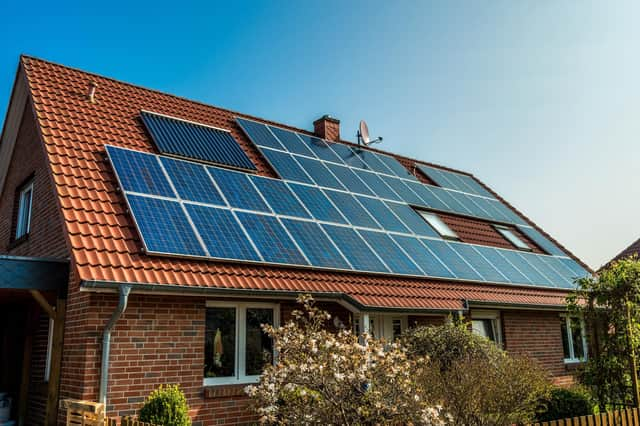 Households can get help from Portsmouth City Council to install solar panels on their homes.
Housing in the UK actually accounts for 20 per cent of all our emissions - with emissions only falling by nine per cent since 1990.
This is mainly because 80 per cent of our homes are heated by natural gas, which is still a fossil fuel.
Professor Steve Fletcher, the chairman of the Portsmouth Climate Action Board.
So although a lot of our electricity used comes from greener sources, overall our energy consumption is nowhere near as environmentally friendly as it could be.
And since Portsmouth is so densely populated our housing emissions are higher than the national average.
According to the Department for Business, Energy and Industrial Strategy city homes account for around 30 per cent of our city's total carbon emissions - or 235,000 tonnes of CO2 per year.
Of course this is a concern for all of us but coupled with the fact that 10,000 households out of 90,000 in Portsmouth are living in fuel poverty - meaning residents can't afford to keep warm - it is clear home energy is something that needs to be looked at.
How energy efficiencies in homes can help our carbon footprint from the Climate Change Committee.
On top of this, nationally it is reported that health conditions exacerbated by poor housing conditions cost the NHS up to £2bn per year.
It's not just the type of fuel that is used that impacts our carbon footprint and the affordability of energy, though, without proper insulation a lot of heat is wasted.
So that is why the Portsmouth Climate Action Board is urging the people to consider improving the energy efficiency of their homes to help not just the environment, but their finances and ultimately their health.
This could mean a range of things from something as simple as switching your energy supplier to a bigger investment such as retrofitting insulation in your home, or installing solar panels.
Making homes more energy efficient will also save residents money on bills
Professor Steve Fletcher, chairman of the Portsmouth Climate Action Board, said: 'In polls, something like 48 per cent of people don't realise that gas central heating is one of the drivers of climate change.
'Luckily there are ways to adapt our homes that mean we can still live in comfort but without harming our children's future. That means better insulation, and heat pumps powered by solar panels.
'We have the technology: and I urge anyone with the available income to look into fitting it now. With emissions from Portsmouth housing about 240,000 tonnes of carbon dioxide a year, there's no time to lose.'
The benefits of decarbonising UK housing according to the Climate Action Board
Portsmouth City Council launched Switched On Solar, an innovative service that allows you to see your own home's 'solar panel potential'.
Energy efficiency measures have already saved households around £290 per year since 2008. Reducing total energy use by 25 per cent by 2035 would result in average energy savings for consumers of roughly £270 per household per year.
Scenarios suggest that between 66,000 to 86,000 new jobs could be sustained annually across all UK regions through decarbonising UK homes - for example retrofitting and replacing gas boilers with low carbon heating.
Reduced NHS costs of roughly £1.4bn to £2bn each year in England alone. The health service is estimated to save £0.42 for every £1 spent on retrofitting fuel-poor homes.
The present value of avoided harm to health is calculated at £4.1 billion in accordance with HM Treasury guidance.
Energy performance certificate (EPC) ratings:
Every house now has to have an EPC rating. This is a measurement of the efficiency of walls, roofs, floors, windows, heating systems and controls, hot water and lighting. The annual running costs of an EPC C rated home is around £270 lower than the average D rated home and £650 less than the average E rated home.
Dr Rachel Mitchell, from Hampshire consultancy Greenbox Associates - which specialises in helping people make their homes more efficient, explained more about retrofitting homes.
She said: 'To meet the government's zero carbon 2050 target, not only do new homes need to be very low energy, but existing homes should be improved by retrofitting insulation, replacing heating systems and improving ventilation.
'A good retrofit will not only save energy but will improve the health and comfort of the dwelling. Cold homes tend to suffer from condensation and damp which usually means mould.
'However, doing this the right way is not always easy, as buildings are complex and changing one element might cause a problem with another part of the home. In the past, the approach to retrofit tend to be quite piecemeal, improving one thing at a time, and this has led to some problems.
'The current thinking is that each dwelling should have a whole house retrofit plan, based on the age and condition of the property and the cost and savings from any measures, starting with the easiest work. Having a plan means that the right thing is done in the right order, starting with the building fabric, to create a low cost, low carbon home.
'Reducing demand for space heating, by increasing insulation, is critical because we are moving from gas to electricity in the form of heat pumps, for heating and hot water. As electricity is currently four times the cost of gas, there is a risk that we will move people into fuel poverty and create low-carbon but higher-cost homes.'
As part of its drive to retrofit homes and buildings to make them more efficient, Portsmouth City Council has spent £4,995,707 in solar technology, covering 373 of its buildings.
And its Switched On team is working to help people make their homes more efficient.
Climate change boss at the council and Climate Action Board member, Councillor Dave Ashmore. said: 'It is Switched On Portsmouth's ambition to make available an appropriate level of support to every household in the city, to make carbon and energy savings within their home.
'This includes a whole range of advice; a freephone line, the online Switched On Solar modelling tool, free home visits with the provision of small energy efficiency measures and audits.
'We also have available fully funded energy efficiency upgrades, which can be worth up to £10,000 for qualifying households; and can include a range of measures such as insulation, heat pumps and solar panels.
'We're keen for anyone interested in saving money and carbon within their homes to visit switchedonportsmouth.co.uk or call 0800 260 5907.'
But it is not just converting existing homes that can drive change in energy efficiency.
Passive houses use a unique ventilation system and extra-effective insulation to create an airtight home that can adjust to the seasons itself – reducing the need for heating. Triple glazed windows and rooftop solar panels can also be installed.And this week the Construction Industry Training Board (CITB) published its report into what would be needed to get housing nationwide to net zero.
Portsmouth Climate Action Board member, Nick Sebley, said: 'Every challenge presents an opportunity: this is particularly true with getting our homes ready for net zero. Firstly we can banish fuel poverty.
'We now know how to build houses now that need very little heating and thus have very low fuel bills. Portsmouth City Council are about to build 100 council homes using this Passivhaus design and we should welcome this. Secondly there is the challenge of getting 27 million existing homes fitted out with insulation, proper ventilation and low carbon heating. The opportunity this presents for new employment is huge.
'In fact, the Construction Industry Training Board has just released their modelling that shows by 2028, we will need 86,000 new project managers, 60,000 plumbers and heating, ventilation and air conditioning techs and 33,000 building envelope specialists, to help get existing homes ready for net zero. The government needs to fast track apprenticeships in these areas.'
So with home energy efficiency measures set to benefit the environment, your finances and your health, what is to stop you looking at some of the options out there?
What would Net Zero Portsmouth look like?Portsmouth is ideally suited for solar panels as it is one of the most southerly cities in the UK.Insulating our homes and using low carbon heating powered by solar PV would get us to net zero. It would also reduce our energy bills, reduce fuel poverty and provide jobs.The majority of houses would be very well insulated (and well ventilated). Hot water and room heating would be provided mostly by heat pumps that ran off solar panels on the roof or green grid energy.
Houses that did combine heat pumps with solar panels could have considerably lower energy bills: if this became the norm then fuel poverty would become a thing of the past. There can be large upfront costs with some of the measures required to achieve this which the government has recognised by providing grant funding incentives for households.How do we get there?We need trusted suppliers and installers, impartial home energy advisors, and government legislationThere are two main ways of reducing emissions from people's homes.
The first is by reducing the amount of heat loss through our lofts, walls and draughty gaps in windows and doors. The second is by changing gas boilers for devices called heat pumps (see below), and powering them by solar panels on our roofs or green electricity from the grid.
The two measures need to go together as heat pumps are most effective when our homes are properly insulated. There are opportunities for people on household incomes under £30,000 to get these measures done for free right now.
Heat pumps look like an air conditioning unit on the outside wall of a property and work like a fridge in reverse, but using a refrigerant with a very low boiling temperature, so even winter air has enough energy to vaporise it.
At the outdoor box, the heat pump fans air over the refrigerant, helping it to absorb heat, which it then transfers to the water tank inside the house. Heat pumps use only around a quarter of the energy needed for a traditional gas boiler and the electricity needed to power them can be got from solar panels and batteries. However, they work best when the house has underfloor heating or bigger radiators and is well insulated.
Get free solar panels for your roofIf your household income is less than £30,000 in total, and your house is suitable, Portsmouth City Council will pay for the installation of free solar panels on your roof. This could cut your electricity bill significantly, potentially earn you money through the smart export guarantee (SEG), and also reduce your carbon emissions. Contact Switched on Portsmouth on 0800 260 5907 to find out more.If your household income is over £30,000 but you are still interested in getting solar panels then contact Switched On Solar, which offers a free solar feasibility result, optional call-back from a solar advisor and referrals to a Portsmouth City Council approved solar installer.
Get a free air source heat pumpSwitched On Portsmouth can also pay for an air source heat pump and installation if your household income is less than £30,000. This is available for both owners and renters, but with the latter landlords contribute third of the cost.Households with an income over £30,000 can apply for a £5,000 green homes grant voucher to fit a heat pump.
Get free solid wall insulationIf your household income is less than £30,000 in total, and your house is suitable, Portsmouth City Council will pay for solid wall insulation This could cut your heating bill and also reduce your carbon emissions. Contact Switched on Portsmouth on 0800 260 5907 to find out more.Get cavity wall or loft insulation
Households with specific criteria (on a low income or benefits, or have a child under 15 years old, or have a health condition for example) can get free cavity wall insulation or loft insulation through EC03 funding, subject to local installer availability.
Get a free home energy appointment
If you want to find out how to reduce your home energy bills and carbon footprint then Switched Pn Portsmouth offer a free home energy telephone appointment (or home visit when suitable). Eligibility conditions apply to the above and you can find out more at switchedonportsmouth.co.uk or call the freephone advice line on 0800 260 5907.
Other ideas to green our homes are:
Engage with local development plans
Influence new developments where you live: ask the local authority or developer about how they intend to reduce carbon emissions, contribute to local consultations and comment on planning applications.
Switch your electricity supplier
Switch your electricity supplier to a 100 per cent renewable tariff. Big Clean Switch is a green energy price comparison site that shows the cheapest deals in your area. However, all tariffs are not made equal: some companies like Good Energy, Ecotricity and Octopus invest their profits into building new solar and wind farms:to be truly green choose one of those three.
Do you work in the housing sector and want to play a part in reducing carbon emissions in Portsmouth? Whether you are an energy assessor, low carbon heat installer, architect, tenant, landlord, builder or developer, we'd like to hear from you. Email [email protected] to find out more.