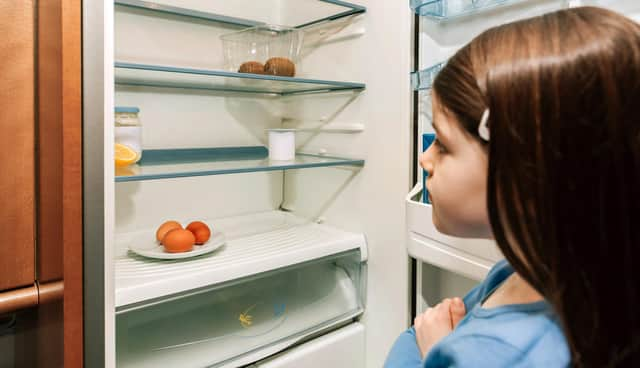 Times are getting hard for many families
When lockdown began on March 23, Citizens Advice, The You Trust, Hive and Age UK Portsmouth were among the organisations in Portsmouth which saw calls increase as residents began to seek help for issues including mental health, finance and loneliness.
Top chiefs from the groups told The News that they were proud with how the community stepped up to help each other during the Covid-19 outbreak but all remain concerned about the impact of the furlough scheme ending next month, and changing to the job support scheme, and eviction ban rules being lifted.
Sandy O'Neill, chief officer of Citizens Advice, said: 'When we first went into lockdown back in March there was a massive increase in enquiries and obviously there was numerous changes in legislation which our advisors had to take on board as well as moving to remote working.
After about six weeks we started to experience a bit of a lull and that was due to the protections on evictions and the furlough scheme. But the demand is starting to increase again. We are seeing people with multiple issues and we are seeing mental health issues mixed in with concerns about finances and security of their tenure.
'We are desperately trying to recruit more resources and get more funding so we are prepared for that onslaught and we can give people the support they need.
'I think my biggest concern is the smallest charities that provide really good services but are all face to face and so during lockdown they have suffered quite significantly and may be at risk of closing down and yet those services are needed more than ever.'
Numbers of people needing mental health support as a result of the lockdown and money worries has increased and led to long waiting lists for counselling as other support groups and resources have been forced to stop due to Covid-19.
Nicola Youern, group chief executive of The YOU Trust, which run Advice Portsmouth and Social Prescribing, said: 'We have seen a massive increase in social isolation and loneliness.
'The issue is that some people have no local family support and their only social interaction is a coffee morning or lunch club and for those small community-based operations that are no longer happening that has been a real problem.
'Mental health support is sadly insufficient and I think one of the things that will come out of this is that there is going to be a massive demand for support and it is about how do we respond to it. Our counselling waiting lists are just getting longer and longer. I think voluntary and charity organisations have stepped in where they can but for many people they need more and there will be more people needing more.
'Some of the other issues we have seen are food and fuel poverty and we are expecting housing cases to go through the roof and a spike in debt cases as well. I think all in the picture is not great but it is at a stage when we are waiting for the wave to come.'
Technology has kept many loved ones in touch over the last few months and allowed many services to continue but some of the population have been left isolated due to lack of knowledge or access to devices.
Age UK Portsmouth has put together activity packs for those facing isolation and are looking at loaning out devices and IT volunteers to help people set up Zoom accounts so they can see loved ones.
Chief operations officer at Rory Massey said: 'There are some people who have a lack of understanding around technology and some have a lack of financial access to devices which has impacted them.
'We have two services aimed at social isolation, one for veterans and one for non-veterans, and the amount of referrals we have received from different agencies has increased close to 100 per cent mainly due to the social isolation of lockdown.
'We are staring down the barrel of something that will have huge mental health effects on people of all ages and we are trying to think of ways to combat that of the coming years and months.'
Carole Damper, chief executive of the Roberts Centre, said: 'Mental health and anxiety is a significant issue – understandably people are frightened and they don't know when this will end.
'The people in Portsmouth are incredibly caring of each other but I think everyone is waiting for the drop off the cliff at the end of October and I think more worrying is the evictions after Christmas.
'We are in dire straits in the number of families and people in hostels and B&Bs and I am not sure how we can add to that.'
Hive Portsmouth helped coordinate part of the city's response to the Covid-19 outbreak and worked with organisations to ensure donations and volunteers are supplied where needed.
Chief executive Louise Wilders added: 'Organisations across the city contacted everyone on the extremely vulnerable list and the very vast majority were not known by any agency beforehand. I think people need to know there is support out there for them for whatever they need.
'I think people talk much more about mental health which is great but I think mental health was a pandemic that was there before Covid and now it has been amplified.'
Helplines:
A message from the Editor, Mark Waldron
The News is more reliant than ever on you taking out a digital subscription to support our journalism.