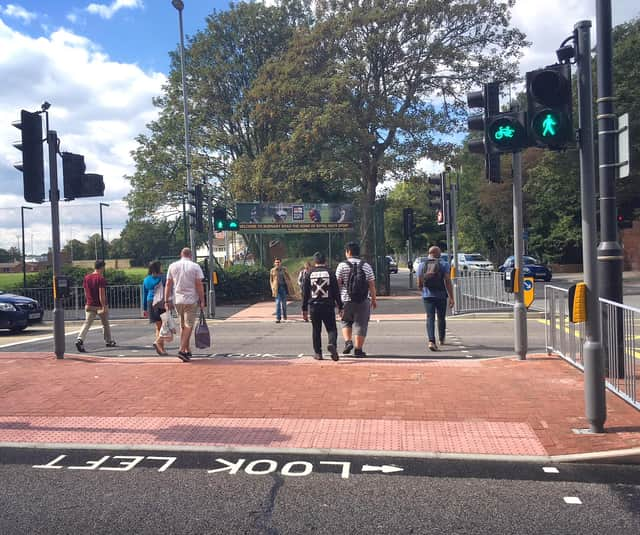 The crossing at Anglesea Road in Portsmouth which has seen the highest reduction in NO2 pollution in England during the coronavirus outbreak
Between March 17 and 24 this year an average of 13.7 NO2 micrograms per cubic metre was recorded at one of the city's busiest roads.
This was significantly down from readings taken in the same spot in Anglesea Road between March 19 and 26 last year, when NO2 levels were 37 - close to the 'safe limit' of 40.
NO2 pollution is caused by emissions from cars, trucks and buses and power plants.
It comes as a nationwide Covid-19 lockdown has resulted in people only travelling for essential reasons.
Portsmouth City Council's environment boss, Councillor Dave Ashmore, said the data highlighted the effect of car use in the city. He said: 'It shows that the volume of car usage has a direct impact on levels of NO2.
'According to Public Health England 90 people in Portsmouth die every year due to air pollution. If 90 people a year died from something else we would be saying this is horrific, because it is.
'We know that air pollution effects people's breathing and can cause them to have respiratory problems.
Environmental campaigner Nick Sebley believed more should be done to tackle pollution after the lockdown. Picture: Ian Hargreaves (071219-8)
'This data could have knock-on effect on how do things in the future when trying to get people out of their cars. We are already working to make public transport more accessible and greener - through retrofitting buses - and installing more electric vehicle charging points.'
The data, which was compiled by the BBC shared data unit, revealed that in the UK the highest drop in NO2 was in Hafodyrynys in Wales. Between the two weeks NO2 levels dropped from 72.6 to 41.1.
NO2 levels also reduced along the A33 in Southampton from 40.1 to 21.9.
Environmental activists believed this presented an 'opportunity' to consider our emissions in the future.
Portsmouth air quality campaigner Tim Sheerman-Chase said: 'We have taken action to reduce the risk of Covid-19, but this has also shown that air quality improvements are possible in principle, if we have the political will.'
Extinction Rebellion Portsmouth member Nick Sebley added: 'There's a real opportunity to build on these positives to tackle the air pollution and climate emergencies.'
The three largest drops, above Portsmouth, in NO2 in the UK were in Hafodyrynys and Chepstow in Wales and Edinburgh in Scotland.