Transgender woman's role as endometriosis charity CEO in Portsmouth criticised as founder backs decision
The appointment of a transgender woman as CEO of an Endometriosis charity has garnered national attention.
Watch more of our videos on Shots! 
and live on Freeview channel 276
Visit Shots! now
Steph Richards, 71, was named as the new head of Endometriosis South Coast (ESC) in Portsmouth last Sunday. The announcement – shared on X (formerly Twitter) – sparked criticism from some women's rights groups and went viral.
Ms Richards responded to the backlash and said some of the responses were transphobic. She said: "Our chair at ESC suffers from endometriosis very severely and is currently working towards her endometriosis research PhD – understandably, she wants to take a step back.
"The trustees decided that the organisation needed an activist with a proven record to drive the charity forward and advocate for a women's health hub in our city, and when asked, I duly obliged – I feel very honoured. My birth sex doesn't come into it, my CV does.
"CEO's are appointed by boards/trustees because of their "skill set", not because of their sex." Ms Richards said there are other examples of charity heads whose sex doesn't correspond with their beneficiaries, including Simon Cook at MSI Reproductive Choices.
She said: "Many gynaecologists are men – I don't see any headlines about them. Diversity should be seen as a strength. Stereotyping is wrong, and by appointing me as the CEO of ESC, I will look at the issues endometriosis sufferers endure with a different perspective than others."
An interview on BBC's Woman's Hour with Emma Barnett sparked fresh controversy. Ms Barnett, who suffers from endometriosis herself, questioned her suitability for the role and criticised Ms Richards for not using the word "woman" in a statement referring to those with the condition.
Eleanor Greene, of the Hampshire Women's Rights Network group, said Ms Richards' appointment was "deliberately provocative". She added: "Endometriosis is a debilitating condition affecting thousands of women in the UK. The role should go to someone qualified or at least sympathetic to women.
"He has stated that he believes that 'women' and 'children' are simply 'social constructs'. It would be hard to find anyone less appropriate for this role. If the charity had wanted to be 'trans-inclusive' they could have appointed a woman who identifies differently.
"But they didn't. They appointed this man. That sends a very strong message out to women who believe in sex-based rights – you're not welcome here."
Endometriosis is a disorder where tissue similar to the inner lining of the uterus grows outside of the uterus. It can cause heavy periods and difficulties getting pregnant.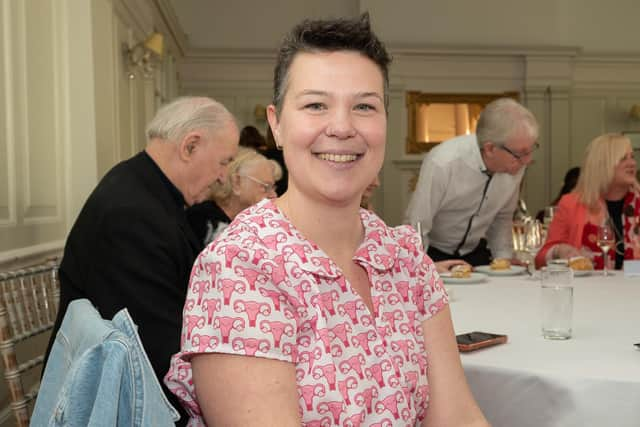 Founder Jodie Hughes started the charity in 2019 and said she took a step back from the organisation due to poor health and balancing her PHD studies alongside being a single mum. She said herself and the board of trustees – who all have endometriosis or adenomyosis – back the decision.
"There is no need for a CEO to have endometriosis", she told The News. "The CEO of Prostate Cancer UK is a woman. You can be an ally and have sympathy for anyone's journey regardless or sex, gender, age or race.
"She is and will be an asset to this organisation."