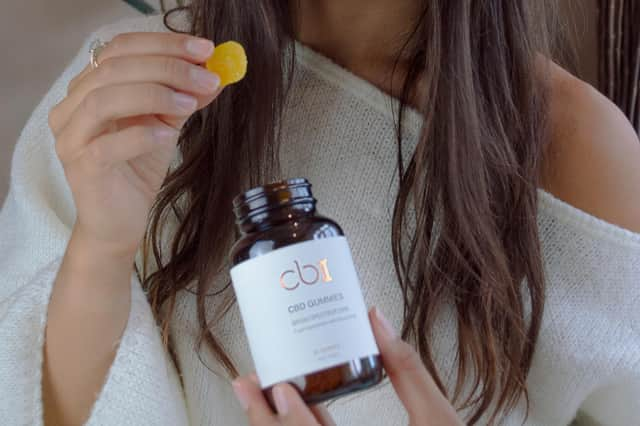 CBD is big news in the wellness world – want to know more?
If you feel like you've been hearing about CBD edibles more and more for the last couple of years, you're not imagining it.
CBD, also known as cannabidiol, is found in the flowers, stems and leaves of the hemp plant. It's said to work with the body's endocannabinoid system to regulate functions like motor control, mood, and sleep.
If you're a regular shopper for food supplements, it's likely you've noticed the CBD trend emerging
Brits are consuming CBD in forms from CBD capsules, to oils, to vapes, to tinctures to treat a range of conditions like anxiety, depression, chronic pain, and insomnia. However, it's CBD gummies that are finding particular fancy with a wide range of busy Brits.
What are the pros of CBD gummies?
Gummies have a range of unique selling points that make them particularly appealing. For instance, doses are pre-measured, making gummies quicker and easier to take, and the recipes are formulated with sweeteners and flavours that override the herbal taste that some struggle to tolerate in hemp products.
Broad spectrum vs isolate - what's the difference?
Depending on how the CBD has been extracted, there may be other cannabinoids present in your dose. These additional cannabinoids can harmonise with CBD to create a stronger effect known as the 'entourage effect'.
However, some people prefer to take CBD isolate, which means they're taking pure CBD, without even trace levels of THC. This means they won't experience the entourage effect.
Unlike its cousin THC - the psychoactive cannabinoid found in the marijuana plant - CBD has no intoxicating effects. And whilst trace levels of THC can be found in the hemp plant, CBD manufacturers must strip this to less than 0.2 per cent to legally sell their products in the UK.
How much should you take?
It's best to start small with your dosage, monitoring how your body responds and adjusting your intake accordingly. The FSA recommends taking no more than 70mg a day, but be sure to check with your medical professional before starting out.
Which CBD gummy should you buy?
Because they're getting more and more popular, there's a growing number of CBD gummies to choose from. To cut through the overwhelm, we've done the research for you, tossing up factors like dosage, price, and accompanying ingredients to bring you seven high-quality options for CBD gummies in the UK in 2022.
Fully vegan, with no artificial preservatives, and colours extracted from natural ingredients, CBII's gummies expertly balance taste, texture and dose for a morsel that's delicious, clean and potent.
The gummies come in a recyclable glass jar brimming with 30 sweets, with each confection containing a 25mg dose of broad-spectrum CBD. You can expect a mix of four flavours in each jar: watermelon, raspberry, tangerine, and lemon.
CBII's CBD is extracted from hemp grown in Oregon - a market known for its strict regulation and high standards.
After harvest, CBII works with Swiss manufacturers Linnea to extract CBD from the hemp in a method that's said to be gentler and cleaner than alternatives. This technique prevents unnecessary damage to the plant, meaning you can enjoy each gummy knowing it's packed with broad spectrum CBD that's as close to its natural form as possible.
As with all reputable manufacturers, you can find third-party lab test results confirming the gummies' make-up and potency on CBII's website.
2. CBDfx Turmeric and Spirulina CBD Gummies - 60 pack - £50
The taste and appearance of these brown discs may not be as appealing as alternative CBD gummy options, but they make up for it with an ingredient list that's stacked with healthy extras.
Alongside 25mg of broad-spectrum CBD, CBDfx's gummies offer extracts from turmeric and spirulina - both known for their wide-reaching health properties, including their ability to ease inflammation.
Lab results are available on CBDfx's website, guaranteeing consistency and quality from sweet to sweet. These gummies are also vegan, and non-GM.
3. Cannaray CBD Gummies - 30 pack - £18
At just 10mg per gummy, these zesty sweets could be a good choice for those who want a lower dose of CBD. Calling upon CBD isolate, they're also well suited for anyone wanting to avoid even trace levels of THC.
With a juicy orange taste, the gummies are vegan, and come devoid of sulphates or GMOs. They call on natural colouring from concentrated pepper and carrot, and are triple lab tested, with the lab reports readily available on the Cannaray website.
4. Koi Hemp Extract CBD Gummies - 20 pack - £9.99
As with Cannaray's gummies, Koi's sweets come with just 10mg of CBD per confection. However, these ones use a broad-spectrum extract, meaning you may enjoy some benefits of the 'entourage effect' from minor cannabinoids that accompany CBD in hemp.
The gummies themselves come in three flavours: lime, tangerine, and acai pomegranate, and harness a pleasantly chewy texture. Delivered in a handy resealable bag, they're a good option to slip into a handbag or backpack.
A certificate of analysis is available on Koi's website, so you can see a full breakdown of ingredients and potency.
5. CBD Guru CBD Cola Bottles - 30 pack - £29.99
With a fizzy flavour, distinctive cola tang, and moreish sugar coating, it's hard to believe these aren't regular cola bottles from the corner shop. However, with a solid dose of 25mg broad-spectrum CBD per gummy, you'll have to resist scoffing them by the handful.
As well as creating expert mimics of well-loved treats, CBD Guru prides itself on the traceability of its hemp, claiming they can trace each batch back to the exact field of origin.
It pays to note that, unlike many CBD gummies, CBD Guru's contain beef gelatin, rendering them not vegan- or vegetarian-friendly.
6. Swiss Peak CBD Gummy Strawberries - various tub sizes - £19.99-£28.99
Swiss Peak's range of CBD edibles is full of interesting shapes and flavours, from cherries to bears, but it's the tangy strawberry sweets that took our particular fancy. With a pleasant, sweet flavour and enjoyable, moreish chew, it's difficult to stop at only one.
With gummies available in various strengths (10mg, 25mg, and 50mg), the range is appropriate for a wide scope of users. A certificate of analysis can be found on Swiss Peak's website.
7. SOOL CBD Gummies - 30 pack - £49.99
With each bottle containing a mix of both green apple and lemon-flavoured sweets, SOOL's broad spectrum CBD gummies are a tasty choice for those seeking a generous dose of CBD. Each gummy administers a 25mg dose, however at £49.99 for 30 gummies, SOOL is one of the more expensive offerings on the list.
SOOL is a Polish brand, and its hemp is sourced from both Spain and Lithuania. The team aims to produce high quality, sustainable CBD products, and each bottle is stamped with a traceable batch code for full transparency.