13 amazing photos of when the circus came to Portsmouth
It's hard to believe that these were the scenes on the streets of Portsmouth.
Friday, 24th April 2020, 12:15 pm
Updated
Friday, 24th April 2020, 12:16 pm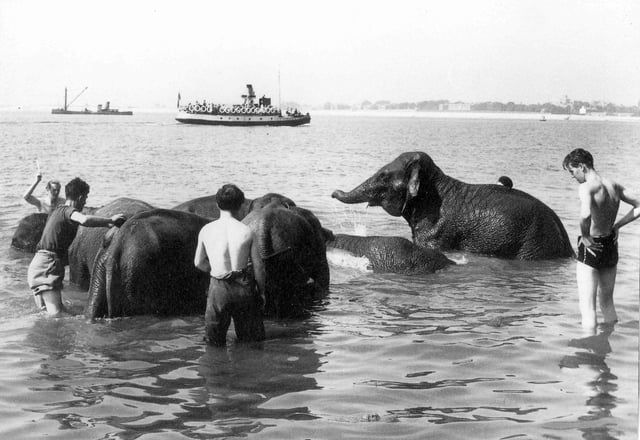 Circus elephants enjoying the sea at Southsea seafront.
The amazing circus images featured are from Bill Cody's Wild West Show, Billy Smarts Circus and Chipperfields Circus when they all visited Portsmouth and Southsea over the years.
Do you remember going to the circus?
The Elephant & Castle in Sultan Road, Buckland, with elephants provided by a visiting circus in 1930. The chap holding the bucket, which was filled with beer, was the aptly-named Charlie Phillpots, the pub cellarman.
Circus elephants Chipperfields Circus at St Mary's Hospital, Milton in 1952. A young boy patient sent a letter to Chipperfields located on Southsea Common, telling them that he could not come, but could they come to him. Amazingly, they did. Some animals even went into the wards for the children to see.
The Circus at Pier Road, Southsea, 1900
Fawcett Road 1906. This wonderful photograph looking north up Fawcett Road on a hot summers day in 1906 shows elephants vying for space with the tram. The elephants were possibly making their way back to Fratton goods yard from Southsea Common to join a circus train. The man on the horse looks at first glance like a policeman but on closer inspection we can see there is no saddle so I suspect he is a circus member. In the distance can be seen the roof of Rugby Road Church which still stands although now flats.
The circus arriving in Commercial Road, looking south 1902. Possibly All Saints Street to the left.
A very angry looking lion disagrees with Dick Chipperfield. Who would want this job?
Looking south along Commercial Road in either 1956 or 1960. The attention was caused by the circus parade through the town.
Cowboys and Indians. August 1903 and Buffalo Bill Cody arrived in Portsmouth with his Wild West show. Here they are parading south down Palmerston Road, Southsea.
Elephants march along Commercial Road.Elephants from either Billy Smart's or Chipperfield's circus pass along commercial Road
Big cats belonging to Dick Chipperfield of Chipperfields Circus.
The arrival of the elephants for Billy Smarts Circus on the Common in 1964.They had walked through the streets from the Town Station.
Billy Smart's circus taking over Southsea common in the summer of 1958.