18 photos to take you back to Fareham in 1993
Take a trip down memory lane and see if you feature in any of the images.
Monday, 22nd June 2020, 5:47 pm
Updated
Monday, 22nd June 2020, 5:49 pm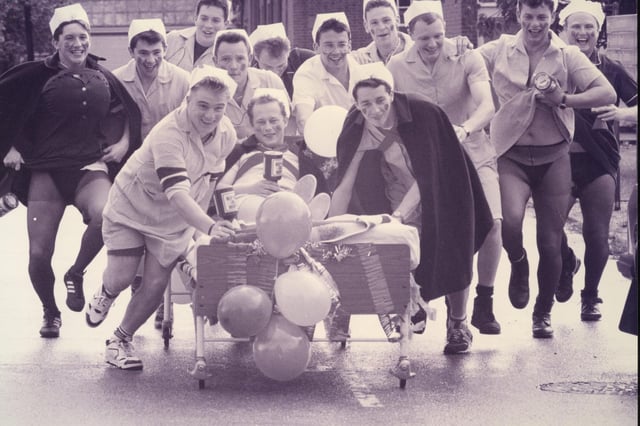 Weapons Engineering Mechanics from HMS Collingwood take charge with a charity bed push from Wykeham day Hospital to Fareham, 1993. The News PP5532
If you've spotted yourself in one of the images and you'd like to purchase it, please call our Photosales department. Telephone: 0330 403 0033 or Email: [email protected] or order through the website at Portsmouth.co.uk, scroll right to the bottom of the home page and choose Buy a photo.
Sea scout Jonathan Coupe takes the strain on the oars as he gives a guided trip around Fareham Creek in July 1993. The News PP4065
The Mayor of Fareham Dorrine Burton-Jenkins, loeft, and the Mayoress Megan Chapman with Uplands Primary School pupil Katie Gardner launching the Save-a-can initiative in May 1993. The News PP134
Labourer Mark Jackson from Funtington carries bricks to the team restoring the old Home Farm buildings at Cams Hall, Fareham in January 1993. The News PP116
Fareham Young Conservatives, from left, Peter Hudson, Paula Finnegan, Emma-Jane Hughes, Richard Hemingway and Andrew Stratton-Brown taking part in the 12-hour red nose aerobics at Boundary Oak School, Fareham, in March 1993. The News PP77
Builder Tony Rymer fits the new cross on top of the new United Reformed church in Fareham, 1993. The News PP4687
Pamela Harnett celebrates as work gets under way to rebuild part of Fareham Baptist Church in 1993. The News PP4701
A swan swims on a lake at a calm Cams Hall Golf Club in Fareham in October 1993. The News PP3159
Mayor of Winchester, Mayor of Fareham, Lord Mayor of Portsmouth with children of Copnor and Hilsea get under way with planting 1000 trees on the slopes of Portsdown Hill, 1993. The News PP5095
Environmental Health technical officer for the Fareham Borough Council at Hill Head in 1993. The News PP4846
A golfer at Fareham Cams Hall Golf club in October 1993. The News PP3160
Fareham scouts, cubs and beavers gather at Titchfield Abbey for St George's Day parade on April 23, 1993. The News PP4064
An abseiler descends Fareham Civic Offices during a mass abseil for charity in 1993. The News PP4404
Fareham Quay, taken from the top of one of the old Fareham gas holders in 1993. The News PP4708
St Peter & St Paul Church, Fareham in 1993. The News PP5566
Fareham residents Sandra Titcombe with her three year old daughter Tracy (right), and Marie with Joshua Gilbert (four), examine the wall which they are being expected to find money for it to be demolished, 1993. The News PP5754
Tim Syson, 15, of Miller Drive, Fareham captured a mystery moth with five-inch wings in his back garden in July 1993. The News PP656
Members of Friends of the Homeless in Fareham show off the Christmas meal they prepared for the homeless at St Phillip Howard Church Hall, December 27 1993. The News PP3454