38 stunning photos showing what Hilsea looked like decades ago
Be transported back in time and see what was happening and how the Hilsea area used to look.
Wednesday, 14th April 2021, 9:35 am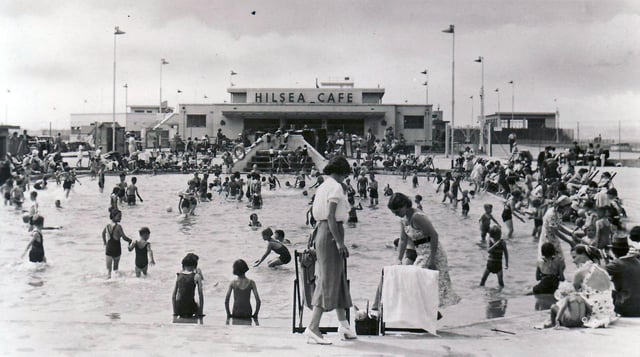 The paddling pool and cafe at Hilsea Lido, Portsmouth, possibly in the late 1940s.
In this selection of images you will see photos from landmarks across the area.
This includes pictures of Hilsea Barracks, the Homeguard, the Hilsea Lido Lagoon and Hilsea Lido and cafe.
Hilsea Lido Lagoon, Portsmouth Picture: Costen.co.uk
It also features photos of beauty contest, a visit by Winston Churchill and the filming of Tommy at the Lido.
Eileen Mackley in the back of the canoe on the moat at Hilsea Lido
The lagoon Hilsea Picture: Costen.co.uk
Girls at Northern Parade Junior School, Hilsea, Portsmouth, about 1954.
The miniature railway at Hilsea Picture: Courtesy of Paul Costen
The Lagoon Gardens, Hilsea Picture: Courtesy of Paul Costen
Can you identify members of Hilsea depot home guard?
Military Tournament winners at Hilsea Barracks in 1902
Up on the roof...dancing on the Blue Lagoon in a scene from Tommy shot at Hilsea Lido in 1974
Filming of film Tommy at Hilsea lido Ann-Margret and Oliver Reed camp it up at Hilsea Lido which doubled as Bernie's Holiday Camp during the 1974 filming of Tommy
Portsbridge, Hilsea, Portsmouth Picture: Costen.co.uk
Hilsea Lido, again from the top of the diving tower, but this time after the Second World War
Hilsea Barracks about 1950
Hilsea Modern School football team 1956 Back Row: Mr Burchil, Gauntlett E, Porter, Dobbin, Harrison, Guy. Front Row: Murphy, Cramer, Lee, Harland, Wheatley, Smithard. Seated on Floor: Gauntlett T, Bonner. Picture: Courtesy of Tom Gauntlett
Hilsea Lido soon after its opening in July 1935 Picture: Costen.co.uk
Homeguard No2 Platoon, Home Guard, Hilsea Depot 1941 Seated row, 6 from left is Sgt Joseph Ellis of Wymering.
Southdown hut The short-lived Quick Service Cafe inside the Southdown depot at Hilsea, in the 1950's
A trolleybus, believed to be from Walsall, at Hilsea in September 1955
A horse-drawn tram passes through Hilsea Arches about 1900
Ladies on parade in the Perfect Figure competition held at Hilsea Lido in 1941.
Hilsea moat. Picture: costen.co.uk
Cricket on the field Cricket on the school playing field, Hilsea in the early 20th c (Portsmouth Grammar School archive).
Hilsea from the top of a tram 1929. Sent in by John Taylor of Fareham here we see the floods of 1929 looking north at Hilsea.
Winston Churchill at Hilsea 1914. In May, 1914 Winston Churchill (in his position of 1st Lord of the Admiralty) was received by officers of the RFA. Picture: Robert James collection
Winston Churchill (First Lord of the Admiralty) lands at Hilsea drill field. 1914. Picture: Courtesy of Stephen Cribb
Ploughing through flood water at Hilsea, a bus travels south leaving a wake.
Fun at Hilsea Lido. The war's over, let's have some fun. Girls enjoy the summer of 1945 when Hilsea Lido re-opened after six years of hostilities.
Vehicles outside the Sparshatt garage at Hilsea. Picture: Stephen Payne collection.
Sentry on guard at Portsbridge. A solider with bayonet fixed guarding the entrance to Portsmouth at Hilsea in 1939.
Out-muster from GEC Works, Hilsea. You have all heard of the out-muster from the Dockyard, this is the same type of thing at Hilsea. Picture: Courtesy of Chris Overton.
Girls from Drings cardboard factory, Hilsea. Portsmouth girls who worked at Drings, the cardboard factory at Hilsea. Picture: Beryl Price nee Purkis
The Auxiliary Territorial Service (ATC) at Hilsea. Seen leaving Hilsea RAOC Barracks are member of ATC. It might be a march out after disbanded.
All change at Hilsea gasworks. Looking north over Hilsea gasworks. Part of the Rugby Camp on the top left is now Pompey's training ground. Picture: Courtesy of Tony Triggs.
Portsmouth Road looking north circa 1935. Almost at the end of tramway days we see two trolleybuses passing in London Road. To the right would be Hilsea Barracks. Picture: Barry Cox collection.
Vacant site where the News office was built. A view over Hilsea with the vacant site where the former Hilsea News office was built. Picture: Mick Cooper collection
Airplane crash at Hilsea Gasworks. On July 22, 1953 this airplane crashed after taking off from Portsmouth City Airport. Picture: Colin Hull collection.
A scene across Portsbridge Creek from Hilsea Lagoon long before modern roads destroyed it. Picture: Mick Cooper collection