Battleship eases her way out of Portsmouth harbour | Nostalgia
Stubbington artist Neil Marshall has produced another of his memorable pictures of Portsmouth and the wider area.This time it is of the battleship HMS Implacable leaving Portsmouth in 1900.
Monday, 6th July 2020, 5:27 pm
Updated
Monday, 6th July 2020, 5:28 pm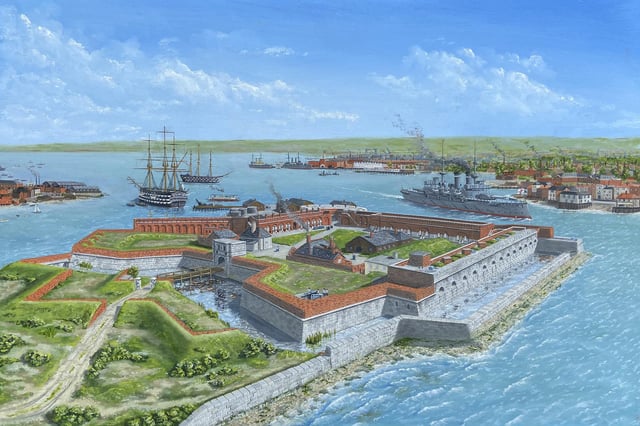 Neil Marshall's picture of HMS Implacable leaving Portsmouth in 1900.
In the foreground is Fort Blockhouse which was a shore establishment for naval mine warfare at the time.
In 1904 it would become a submarine base and later renamed HMS Dolphin.
Also in this fascinating view are HMS Victory and HMS Duke of Wellington at anchor.
Some of the Heatwave band members: Glyn, roadie, Terry Perry, keyboard, Mike Low, roadie.
Bath Square at Point, Old Portsmouth, can also be spotted along with many other points of interest.
if you are interested in buying a copy then please contact Neil via email at [email protected] or by phoning him on 07469 711 700.
• Some of you might have bought DJ Pete Cross's book all about the much-lamented Tricorn Club in the 1960s' shopping and leisure complex The Tricorn in Portsmouth city centre.
Martin Samuel has got in touch to tell about his band when they played there.
Heatwave appeared at the Tricorn Club along with Radio 1 DJ the late Dave Cash.
Martin was the drummer in the first and original, south London-based band by the name of Heatwave in 1969.
He says: 'We were not the funk/disco multi-national group who "borrowed" our good name in 1975.'
No, they were John Edward, the band's booking agent who had been in the Manish Boys with Davie Jones (David Bowie) was later a Radio London DJ and Metal Mickey creator.
'He wrote and produced the songs Sister Simon (Funny Man) A-side and Rastus Ravel (Is A Mean Old Man) the B-side.
Martin adds: 'In addition to vocals by the band, back-up vocals were sung by The Ladybirds on the A-side and Mama Soul Doris Troy on the B-side. Rick Wakeman may be heard playing piano.
'The single was released by Larry Page in the UK and in Germany and Japan on his Penny Farthing label.
'Having played a week at the Cavern Club in Liverpool, we are proud of our commemorative brick, 20 rows above 'John' (Lennon of course, in the Cavern Club wall of fame).'
Maritn continues: 'Heatwave played the Tricorn Club several times, including February 19, 1970, with Pete Cross in charge of the turntable.
'I joined the band Crew in August 1971 and, although misspelled, we played the Tricorn Club on August 30, and several other occasions too.'
Unfortunately the photograph Martin sent me was in shadow and silhouette and I had to crop around it thus it being the way it is.