Detailed new book examines historic defences of Portsea Island | Nostalgia
If there is one book you will want about the history of Portsmouth then Barracks, Forts and Ramparts is all you will need.
Wednesday, 13th January 2021, 5:02 pm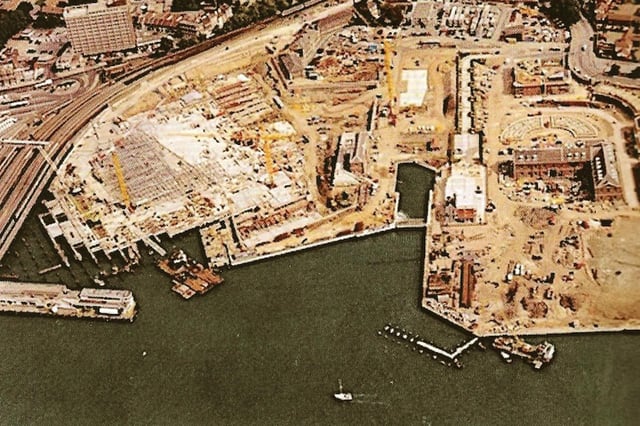 Gunwharf Quays under construction on the former HMS Vernon site.
This 450-page A4 book has everything about the history of our great town and then city.
Although it costs a hefty £40 then consider this; my books of 80 pages comprising then and now photographs cost £10 which puts this 450-page book in perspective. It is the work of Celia Clark and Martin Marks.
Everything about Portsmouth's past is included, from the Old Portsmouth and Gosport fortifications, the forts at Spithead, the forts along the Gosport peninsula and those on top of Portsdown Hill.
The cover of Barracks, Forts and Ramparts.
Back down at sea level and Fort Cumberland along with Fraser Battery gunnery range at Eastney are all well researched.
Gunwharf Quays, the reason for it being there, its becoming HMS Vernon and its loss, demolition and rebuilding as a shopping centre is well documented. The Portsmouth Royal Dockyard, as it once was, has much for historians to digest.
The preserved boats of the Portsmouth Naval Base Property Trust are all mentioned as is Foudroyant/HMS Trincomalee.
Both Haslar Royal Naval Hospital at Gosport and the QA at Cosham have also been researched with many maps and photographs illustrating their history .
Defensive positions surrounding Portsea island in the Victorian period.
Stokes Bay Lines and Batteries along with Fort Monckton are also well documented.
St Andrew's Church, Eastney, the Royal Clarence Victualling Yard and Southwick Park, the former home of HMS Dryad, are just a few more of the subjects covered in the book.
As I said, you need never purchase another book on the defence of Portsea Island as everything here is so well researched and documented and well worth the expense.
The book, at the time of writing, cannot be bought in book shops so you will have to contact one of the authors, Celia Clark at 8, Florence Road, Southsea PO5 2NE. Email [email protected]
• Nelson and his fleet destroyed the Franco/Spanish opposition at the Battle of Trafalgar but what happened to all their ships afterwards?
Most would have been captured and the ships' crews awarded sums of money. But it was not to be. Admiral James includes in The Durable Monument – Admiral Nelson (1948) what a young sailor wrote home to his father: 'We have taken a rare parcel of ships but the wind is so rough we cannot bring them home, else I should roll in money so we are busy smashing 'em and blowing 'em up wholesale. Our dear Admiral Nelson was killed! so we have paid pretty sharply for licking 'em.'