Emsworth VE Day street party. Recognise anyone? | Nostalgia
I have to start my VE Day celebration photographs today as I have so much to publish.
Tuesday, 5th May 2020, 4:00 pm
Updated
Tuesday, 5th May 2020, 4:01 pm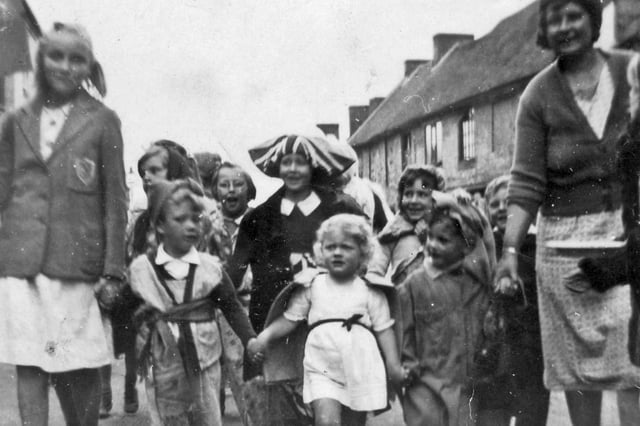 Little Linda Griffin, in the white dress, leading the way for the party in South Street, Emsworth, on VE Day.
Three of the photographs come from Emsworth and were sent to me by Dorothy Bone, an administrator at Emsworth Museum.
In turn they were lent to her by Linda Griffin who is the little girl in the white dress in picture on the right.
That group was being led through the streets of Emsworth to South Street for a street party held on May 8, 1945, to celebrate the end of the Second World War in Europe.
Most of the children at the South Street, Emsworth, VE Day party held on the actual day, May 8, 1945, would be in their eighties now.
Linda told Dorothy that some of the children were in fancy dress and she was a 'doll in a box'.
If anyone recognises themselves or anyone else, do please make contact Dorothy on [email protected] or by dropping a line to the museum in North Street, Emsworth.
The picture of the older Emsworth children at the street party shows a bunch of happy smiling faces. They had every right to beam. The war – and they could remember little else – was over. All would be in their eighties now and some might still be alive.
It would be great for the Emsworth Museum to hear from you. Unfortunately we have no names for any of the children or adults.
Mothers of the children who attended the Emsworth street party and organised the event. But who are they?
VE Day 'star' on Guildhall steps
On the Guildhall steps for VE Day celebrations is Lilian Coburn (née Archer). She is third from the right in the front, wearing a light-coloured coat.
The photo appeared on the front of the Evening News and Lily didn't know until six years ago. Alan Smith bought a copy of the 40th anniversary paper and was moving house when the paper came to light. He showed Lily, the wife of a pal, who had never seen it before.
Pictured on the steps of the Guildhall is Lilian Coburn (née Archer) enjoying the VE Day celebrations. Picture: The News archive