Facing the front with your arms folded, the old classroom regime | Nostalgia
I always find it odd when I see modern schoolchildren not sitting facing the front but sitting in groups, many with their backs to the teacher.
Saturday, 22nd February 2020, 6:00 am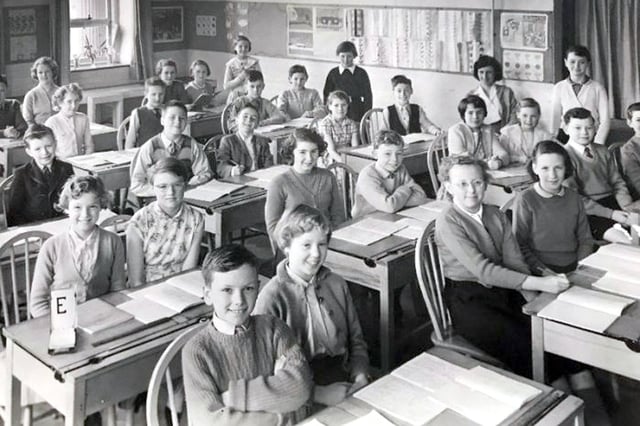 How it used to be, children at their desks facing the front. Picture: Mick Cooper collection
Do you remember, when you were at school in the 1950s and '60s, everyone had to sit at a desk, a desk which had with a lid?
The lids opened so that exercise books could be kept inside?
The desks also had grooves in a little furrow on the top edge in which you placed your pencil and/or fountain pen... and there was always an inkwell.
An ink monitor (the child with blue-stained fingers) would go around and fill them.
The desks were usually in pairs so, if you were very lucky, you could sit next to your best mate. My best friend at the time was the late Terry 'TO Roadshow' Overton and we sat shoulder to shoulder through the four years of our secondary school careers.
Terry died when he was just 55. I still miss him if the truth be told.
The reason I ask about the desks is the cost.
In 1949, 37 tenders were received by Portsmouth City Council from firms hoping to supply 1,500 desks and chairs for secondary modern schools.
It was recommended that a tender from Kingfisher Ltd of West Bromwich, Birmingham, be accepted.
The cost would be £2 6s (£2.30p) each. Oddly, the chairs to accompany the desks were supplied by Smith & Co, (School Furnishers), of High Wycombe, for 16s 3d each (82p) each.
Subject to the approval of the Ministry of Education, an application had to be made to the Ministry of Health for permission to borrow £4,669, which was approved. The equivalent total today would be £162,000.
• I sometimes wonder if secondary school education was worth the trouble.
Obviously, I have a great interest in history otherwise I would not be able to write this column, but when I was at school very little was taught about the history of England, the kings and queens who made us what we are.
I remember a very boring teacher who excelled in the workings of the Spinning Jenny, a weaving machine in the 19th century. How I ever kept awake I will never know.
I recently bought a 1911 copy Meiklejohn's History of England for just a pound from a second-hand bookshop. Marvellous. I didn't realise just how ignorant and uneducated I was about England.
It tells everything about England, from when the Romans settled here, up to the reign of Queen Victoria. How Henry VIII formed the Church of England and how the Queen Mary had men, women and children burnt at the stake for being protestant. Executing people seemed to be a pastime for many of our royalty.
Did you know it was William, Duke of Normandy, later King William of England, who made the United Kingdom.
It states: 'William made England become for ever a United Kingdom, one, and indivisible, which since that day, no man has dreamed of parting asunder.'
Well, Bonaparte tried, the Kaiser tried and Hitler tried, but all to no avail thanks to the way the English and now, the British, are.
• For those of you who listen to Angel Radio (89.3FM or DAB Radio) you might like to know that I am back on the station presenting a midday to 2pm show on Tuesdays.
It is a request show so you can phone in for your favourite piece of music from the 1920s up to 1969. So, if you would like to hear my dulcet tones do tune in.
• In my piece about the death of John Bevan, the author of Commander Crabb – What Really Happened, I forgot to mention John's sequel, Crabgate, which tells just about everything there is to know, or not to know, owing to the fact the files on the incident have been closed until 2056.
Apart from the ins and outs of the story, if you enjoyed Portsmouth in the 1950s this is a book for you.