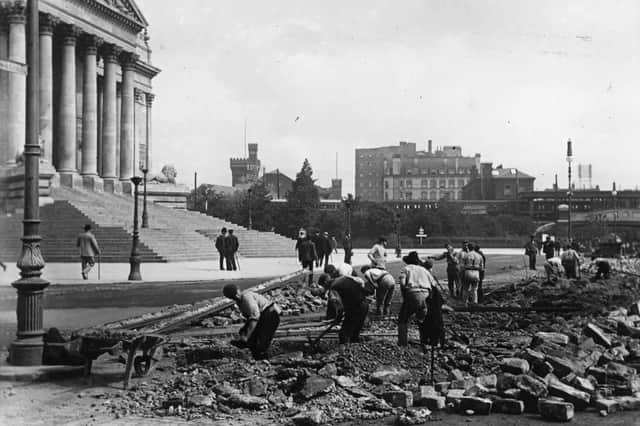 1902: The laying of the electric track for Portsmouth trams, outside the town hall (later the Guildhall). Picture: Hulton Archive/Getty Images.
A message from the editor, Mark Waldron.
We've reduced the cost of digital subscriptions to our website by 50 per cent for a limited time.
You can now subscribe here for unlimited access to our online coverage, including Pompey, for less than 13p a day.
1902: Men putting up a traction pole at the King's Road junction during the electrification of the Portsmouth tram system. Picture: Hulton Archive/Getty Images.
Car entering the Town Hall Square in Portsmouth, from the north. The train on the bridge, is standing in Portsmouth Town (High Level). Electrification appears to be going on in the distance, which would date this picture as between February and May 1901. The overhead wiring is already in position under the railway bridge. The road was lowered here for electric traction, in order to give the necessary clearance. Note the setts against railing on left, also that road was only lowered on the left hand side of picture. This caused a fiasco when trolley-buses were introduced, as the engineers only measured headroom over the tramway tracks and then found that a trolleybus would not pass under the bridge to the right of the picture (where the sailor boy is standing) so the road had to be lowered this side as well. (Photo by Hulton Archive/Getty Images)
February 23, 1901: Workmen putting in overhead wires in Commercial Road for the electric tram from a tower wagon. Picture: F J Mortimer/Hulton Archive/Getty Images.
Workers laying electric track in Greetham Street. This would be some time between February 23, 1901, when work started on this section, and the end of May, when work was completed. Picture: Hulton Archive/Getty Images.