HMS Victory looking stunning under full sail | Nostalgia
Some months ago I published a photograph of a sailing ship in full sail explaining what studding (stunsails) were.
Tuesday, 7th April 2020, 7:56 am
Updated
Tuesday, 7th April 2020, 7:57 am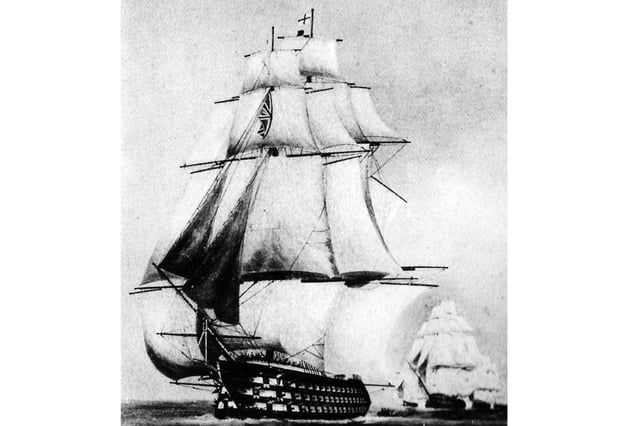 HMS Victory with a full set of stun (studding) sails. Picture: Tony Oliver postcard collection
I then tried to find a print of HMS Victory in glorious full sail in my vast collection of sailing ship books, but failed miserably.
Then Tony Oliver sent me this postcard of a magnificent painting showing HMS Victory with a full set of stunsails. They were set when there was just a slight breeze to give the ship some leeway.
As we can see, she has them set either side of the mainsail, topsail and topgallant sails on the fore and mainmast.
A view towards Clarence Pier, 1860. Yes, this picture is 160 years old. Picture: Barry Cox postcard collection
What the picture does not tell of course is the feat of seamanship it took to set these sails.
Booms set above the yardarms had to have the sails affixed and then eased out to the end of the yardarms. When the wind picked up again they were taken in, yet another feat.
The ships astern of Victory also have all their sails set.
With calm sea all the lower deck gun ports are open to allow fresh air to pass through the cramped decks.
The Shannon Memorial in 1875. Picture: Barry Cox postcard collection.
The caption on the postcard caption says: 'The first shot fired at the Battle of Trafalgar'. I am not so sure as surely most of the sail would have been taken in long before going into action, but stand to be corrected.
The combined French/Spanish fleet consisted of 33 ships which outnumbered Nelson's fleet by six.
You might think Victory is big, but the largest ship in the battle was Santisima Trinidad. She had four decks and 140 guns.
Surrendering to HMS Neptune the ship sank the day after the battle.
• The postcard of Clarence Pier, Southsea, is no less than 160 years old. It was taken from Clarence Esplanade looking towards the original pier. Several boats can be seen waiting to take visitors out for an hour or so.
On the right is the memorial to HMS Shannon, four cannon bollards, one on each corner. The memorial was to men lost during the Indian Mutiny of 1857.
A total of 103 officers and men lost their lives either being killed in action, dying of their wounds or through disease. It further adds another 44 officers and men who were wounded.
The memorial was put up by officers and men from HMS Shannon in 1860.
• The picture of the Shannon memorial was taken 15 years after the previous postcard view. The memorial is tapered in shape and made of granite. Surmounted by a trophy made of bronze it is made from the metal of captured guns.
Shannon was built in Portsmouth Dockyard and launched on November 12, 1855. After a short life of just 16 years she went to the breakers on May 31, 1871.