Portsmouth's rock and pop history is recorded in follow-up book | Nostalgia
If you were a 1960s' Portsmouth teenager who visited the halls and clubs watching the many bands that played around the city then Pompey Pop Pix is for you.
Monday, 9th March 2020, 4:07 pm
Updated
Monday, 9th March 2020, 4:08 pm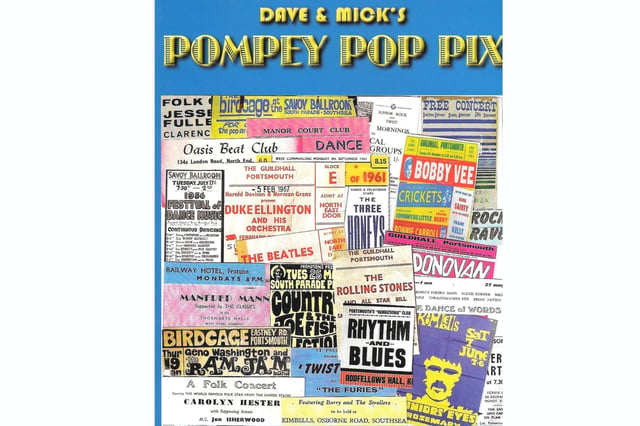 Pompey Pop Pix has been reprinted.
First published in 2011, the original print-run sold out in 12 months.
But such has been the demand that authors Dave Allen and Mick Cooper have had 50 copies reprinted.
The book is filled with hundreds of photographs of bands, many taken by Rod Taylor and Alan Williams, including some of Rod Stewart in Osborne Road, Southsea, and on Southsea Common before he shot to international superstardom in the 1970s.
The houseboat Kathleen moored on the Chichester canal. Does she still survive?
The two authors have also written a sequel which covers the Portsmouth music scene from 1970 until 1999. It will published next month. All profits from the books go music charities.
While I'm writing about music, do take a look at the Pompey Hall of Fame in the Guildhall. It's well worth a visit and free.
To obtain a copy of either, or both books, at £10 each plus £3 p&p, contact Mick Cooper on (023) 9237 1018.
• Georgie Hole's family bought the houseboat Kathleen in about 1960. She was a converted P&O lifeboat and moored on Chichester canal where family holidays were enjoyed.
The Wheatsheaf pub at Botley Drive, Leigh Park. Picture: Barry Cox collection.
She was a 30-footer, constructed of teak, with double diagonal planking, and she possibly had a Thornycroft engine.
By writing to The News' sister paper The Chichester Observer, Georgie managed to find someone who knew something about her early history. In 1979, she was sold to a Mr J Pattison, of Waterlooville, and at some subsequent point, was removed from the canal.
Georgie and her brother wonder if anyone can tell them what eventually happened to this venerable old lady. Is Kathleen still afloat somewhere? It may be possible although Kathleen would be more than 100 .
Georgie says family lore reckons that Kathleen was at Dunkirk in 1940, but I am not so sure. The Association of Dunkirk Little Ships website, which records every private boat that took part in Operation Dynamo, makes no mention of Kathleen.
• The two photographs of the Christmas party in the hut beside the Cricketers pub at Leigh Park I published last week, was seen by Barry Cox. He lent me this photo of one of the first pubs built on the estate.
The Wheatsheaf stood on the corner of Botley Drive and Bramdean Drive and was popular from day one. On the left was the public bar and on the right the entrance to the saloon. Next door is the Leigh Park Wineshop which had no connection with the pub.