Royal Navy divers blew up rogue Ford Cortina in Irish Sea | Nostalgia
Mike McBride dropped me a cutting about the 1950s' wooden-hulled minesweeper HMS Bronington, once commanded by the Prince of Wales.
Thursday, 29th October 2020, 6:39 pm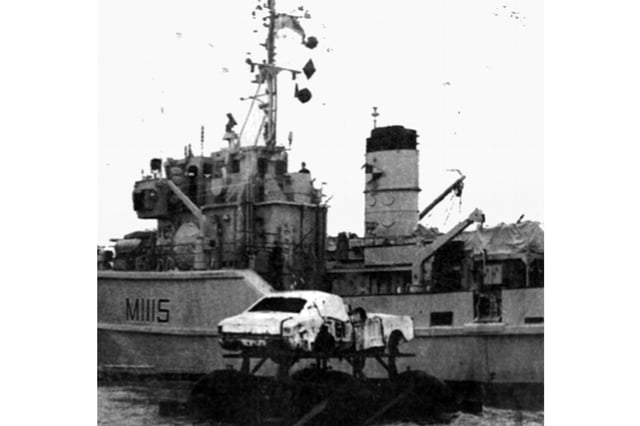 The Ford Cortina captured by HMS Bronington in the Irish Sea and disposed of by the ship's divers. Picture: Navy News/Mike McBride collection.
While on fishery protection duties in the Irish Sea off the west coast of Wales, Bronington ordered to tow away and destroy a white Ford Cortina which had become a hazard to shipping.
This missile target mounted on four buoys had broken away from its moorings and, driven by the wind, 'sailed' more than 100 miles to a position four miles south of the Isle of Man.
As the Cortina/target was within fishing grounds, Bronington towed it into deeper waters and ship's divers destroyed it using plastic explosives (the explosion would have provided the crew with fish suppers for the rest of the week).
HMS Bronington as she is today - very distressed and ready for the breakers if not saved. Picture: Navy News/ Mike McBride collection.
Bronington is currently tied up and neglected alongside at Birkenhead Docks. She is partially sunk and sitting on the seabed.
Being an elite member of the National Historic Fleet (NHF) does not guarantee survival and the many attempts to save her since decommissioning in 1989 have been unsuccessful. Wwithout funding and a home for this 'wooden-walled' minehunter, the end appears to be near – unless swift action is taken.
A letter highlighting the plight of HMS Bronington was sent to Prince Charles. His reply showed a great interest in efforts to recover the vessel and he is taking a keen interest in all matters to do with his former ship and the recovery efforts. He maintains a strong link with his former ship.
If you have any views regarding the demise of HMS Bronington, email: [email protected]
Can anyone tell me if this is the Barleycorn in Great Southsea Street or the former John Barleycorn in Commercial Road? Picture: Richard Boryer.
A letter will be sent to Portsmouth North MP Penny Mordaunt who said recently in The News 'This ship is an important part of our naval history and saving her, or giving her a new life as a museum would be wonderful.'
• I have been unable to find a really old picture of this pub and wondered if it was the one in Great Southsea Street, Southsea. There was also a pub in Commercial Road called the John Barleycorn.
In November 1943, the landlady of the John Barleycorn, 63-year-old Rose Robinson was murdered. The accused, Harold Loughans went on trial at Winchester Assizes but as the jury could not reach a verdict another was held at the Old Bailey where he was found not guilty. In later years he admitted to a Sunday newspaper he had committed the murder.
Can anyone tell me if this is the Barleycorn in Great Southsea Street or the former John Barleycorn in Commercial Road with perhaps a name change brought about by the murder?