What must Landport lads have felt as they sailed into Sydney? | Nostalgia
Andrew August, from Waterlooville, has let me borrow some marvellous naval photographs which I shall be using over the coming weeks.The first two are when HMS Sussex sailed to Australia.
Wednesday, 24th February 2021, 6:53 pm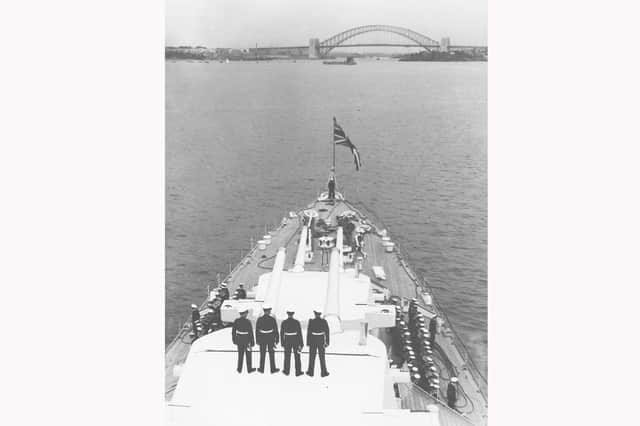 HMS Sussex approaches Sydney Harbour bridge in 1934. Picture: Andrew August collection
It always makes me wonder how sailors in the days long before world-wide travel must have felt when going abroad.
To perhaps have grown up in the back streets of Portsmouth then join the navy and travel to far away places such as Australia must have been mind-blowing.
The top photograph was taken from the bridge of HMS Sussex in 1934 as the ship approached Sydney Harbour bridge.
In warmer climes a ship's company would have the chance of a swim. That is a sailor on the top right in a bathing costume of the time. Picture: Andrew August collection
She served with the Royal Australian Navy from 1934 until 1936 as part of a mutual exchange, with HMAS Australia serving with the Royal Navy.
Standing on 8-inch 'B' gun turret we see four Royal Marine buglers at stand-easy ready to come to attention to announce the ship's arrival. Port and starboard we see some of the ship's company fallen in for entering harbour.
Ahead of the ship above the jackstaff can be seen Pinchgut Island with the tower of Fort Denison. It was originally a rocky island and a place of punishment for convicts. In the mid-19th century a Martello Tower and fort were built on the outcrop to protect Sydney from seaborne invasion.
The bridge had opened just a couple of years before the the arrival of HMS Sussex, on March 19, 1932.
Fareham FC in 1947 with Frank Wheeler to the right of the goalkeeper. Picture: Geoff Wheeler collection
• Somewhere on the high seas HMS Sussex has come to rest to allow sailors to have a swim.
The ship's public address system would echo 'hands to bathe, hands to bathe' and all those who could swim took to the water. Perhaps there might have been water a mile deep beneath them.
The person in the top right hand corner is not a Wren but a sailor in a swimming costume in the style of the period.
• Geoff Wheeler dropped me a line to say that Fareham Town FC was formed in 1947. It was formed after the amalgamation of Fareham FC, Fareham Brotherhood and Fareham Casuals. Geoff's father Frank, can be seen to the right of the goalkeeper.
Just a dozen years later the heavy boots and shinguards would be done away with for much lighter kit although shin injuries became the norm, even after a kick from lightweight boots.
No doubt the team would have also played a 2-3-5 formation with three half-backs and five forwards. I wish some manager, especially one from the bottom of a league would give this formation a try once again. I'm sure it would frighten the opposition to death to see five forwards lined up against them.
A message from the editor, Mark Waldron. You can subscribe here for unlimited access to Portsmouth news online - as well as fewer adverts, access to our digital edition and mobile app. Our trial offer starts at just £2 a month for the first two months.