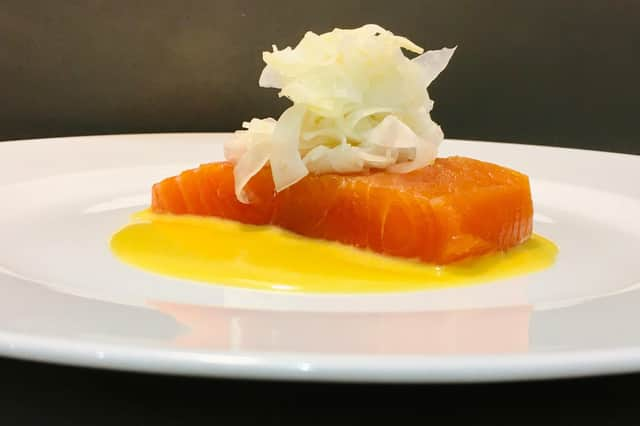 Orange-cured trout by Lawrence Murphy
It's Boxing Day so we are traditionally eating left over turkey, pickles and possibly the toffees left in the sweet tub. Its also a day when we start to think about new year's eve, which I'm sure will be different for all of us.
The big parties will not take place and the fireworks won't happen, however you've got plenty of time to plan a dinner party for yourself to say good bye to 2020.
This orange-cured trout dish takes some time to prepare but will give you a great start to any special dinner.
Let's look forward to seeing family and friends next year and a possibility of some form of normality.
Hope you are all well and I look forward to seeing you in the new year.
400g Chalk stream or large trout fillet
1. Remove the bones and skin from the fish. Trim the brown coloured flesh away. Wrap in cling-film and freeze for 48 which kills any harmful bacteria
2. Defrost the fish and lay it in the juice of the two oranges for 1 hour (in a fridge)
3. Mix the salt, sugar, fennel seed and zest from the oranges together.
4. Lay a large sheet of cling-film on the work surface and put half of this mix onto it. Spread it out to the same size as your fish.
5. Put the fish on top and then spread the rest of the salt mix over the fish.
6. Wrap completely in cling-film and put onto a tray in the fridge.
7. Turn the fish over after 12 hours and then leave for another 12 hours.
8. Remove the fish from the cure and wash under a running tap.
9. Pat dry with kitchen towel. Wrap in cling-film and put back in the fridge.
10. To make the the sauce zest the oranges into a saucepan add all the other ingredients and the juice from the oranges.
11. Bring to the boil and simmer for 5 minutes. Liquidise and allow to cool.
12. Thinly slice the fennel bulb and sprinkle with a teaspoon of salt. Let it stand for 20 minutes. Wash and then add the orange juice and mix together
13. To plate spoon the orange sauce onto plates, cut the trout and place on top and then add a small pile of the fennel salad on top.