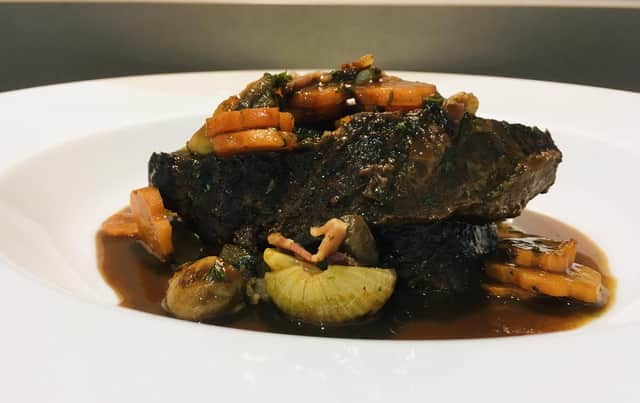 Ox cheek bourguignon by Lawrence Murphy
It lost favour and is seen as old fashioned, but cooked properly it can be a wonderful winter stew.
2 beef cheeks (approx. 450g each) trimmed of fat; 2 onions cut into quarters; 2 carrots chopped into 2cm pieces; tablespoon tomato paste; 500ml red wine; 500ml beef stock; 10 white peppercorns; 2 cloves garlic, sliced; bay leaf; small bunch thyme to add later; 4 slices smoked streaky bacon thinly sliced; 150g button mushrooms; 10 baby onions peeled and cut in half; 3 carrots peeled and thickly sliced tablespoon chopped parsley
1. Heat a large ovenproof pan and add a knob of butter, once bubbling add the onion and carrot.
2. Cook for 3 minutes on a medium heat to start to colour, stir in the tomato paste. Cook for 2 minutes.
3. Add the red wine, beef stock, bay, thyme and garlic, bring to the boil.
4. Add the beef cheeks and bring back to a simmer. Cover with a lid and put into a pre-heated oven 150c, gas3 for 3 1/2 hours.
5. Push a skewer into the cheeks, it will go in easily when cooked.
6. Fry the bacon in a pan and put into a clean casserole dish. Fry the mushrooms in a little butter and add to the bacon. Now put in the carrots and onions.
7. Carefully lift the cheeks from the cooking pot and put into the new casserole dish.
8. Strain the liquid over the cheeks and then cover and put back into the oven for another 30 minutes.
9. Lift the meat and vegetables and divide into 4 bowls, reduce the leftover liquid in a saucepan on a high heat until glossy. Pour over the meat and sprinkle on the parsley to serve.​​​​​​