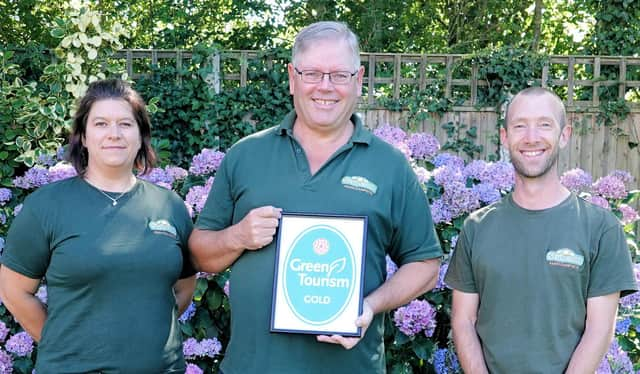 Stubcroft Farm Campsite's managing director Simon Green, centre, with operations manager Michaela Rozborilova, left and Mark Feast, sustainability and accessibility coordinator, right
Stubcroft Farm Campsite has scooped the prestigious gold award from Green Tourism in recognition of their commitment to responsible and ethical tourism.
The accolade recognises both the quality of facilities and environmentally-friendly approach by sites. Only two other campsites in the UK have achieved the accolade.
But for East Witterings-based Stubcroft, it's the second Gold Tourism Award it has bagged in the past year after winning the Visit Britain / Tourism South East's 'Beautiful South' gold award for the best 'campsite, caravan and holiday park' in the the region last December.
Simon Green, Stubcroft's managing director, said: 'It is great a small family business like ours has achieved the same gold level award as major international venues such as the Ritz Hotel, Chatsworth and Blenheim Palace albeit on a much smaller budget.'