Hampshire County Council underlines 'unwavering support' to the Armed Forces
Hampshire County Council has underlined its commitment to the Armed Forces.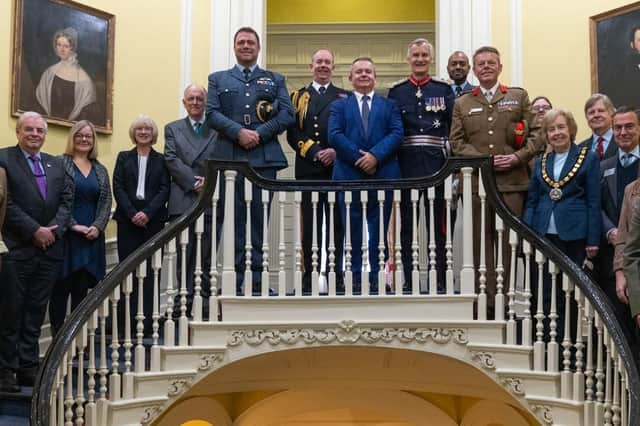 They have renewed their pledge that serving and veteran members of the Forces, and their families, are treated fairly and are not disadvantaged when accessing public services such as education and healthcare.
The County Council was selected some 12 years ago to be among the first to sign the Armed Forces Covenant, because of its strong track record and work it does with military partners.
Hampshire has a historic and long-standing close relationship with the Armed Forces and has military facilities from all three services. Some 72,000 households in Hampshire include someone who has served in the UK armed forces.
In 2021, 9,278 people in the Portsmouth City Council area said they were a veteran at the time of that year's census – 5% of usual residents aged 16 and over.
The figure (8,422) was even greater in the Gosport local authority area – 13% of usual residents aged 16 and over.
It meant that area had the highest proportion of veterans in England and Wales.
Cllr Humby said: "Hampshire is home to one of the largest armed forces communities in the country.
"Our commitment to uphold the Armed Forces Covenant means that we look carefully at our services to ensure that there is no disadvantage to the Armed Forces community in the way services are provided, and that we are making special considerations where appropriate – especially for those who have given the most, such as the injured and the bereaved.
"We are proud that we were one of the first local authorities to sign the original Covenant in 2011, and one of only two local authorities to receive the Defence Employers Recognition Gold Award in 2016."
Commodore John Voyce, who attended the ceremony on behalf of the Royal Navy, said: "Hampshire County Council continue to show their dedication and commitment through their unwavering support to the Armed Forces."
Brigadier Lee Daley, Commandant Defence College of Logistics, representing the Army, said: "It is vital that we encourage engagement with the community that we serve and ensure fairness for all serving personnel and their families.
"The Covenant is an articulation of this relationship and I hope to see this bond continue and strengthen for many years to come."
Group Captain Matt Roberts, Station Commander at RAF Odiham, said: "On behalf of all our Royal Air Force personnel based in Hampshire and the Isle of Wight, it is a privilege to re-sign the Armed Forces Covenant."
In line with the Covenant Duty, HCC considers the needs of the Armed Forces when making decisions about service provision, particularly as part of its role in education and further education.
For example, HCC actively supports schools and leads a network of school Service Coordinators in their pursuit of best practice for pupils from military families.
HCC skills and employment programmes, such as the Construction Skills, Driving Futures, and Apprenticeship Levy Transfer programmes, have created retraining and upskilling opportunities for former military personnel and their families.
HCC is also a military-friendly employer with policies which support staff to work flexibly and have time off for key occasions such as homecomings.
HCC also has a Reservist policy in place allowing staff 10 days paid leave for reservist duties, and support for the mobilisation of staff – as was the case for some Reservists who were mobilised as part of the national response to the pandemic.