Portsmouth veteran tells how Royal British Legion helped him after life-changing injuries ahead of Remembrance Day
With Remembrance Day taking place this weekend, the work of The Royal British and how it helps our veterans is at the forefront of many people's minds.
Watch more of our videos on Shots! 
and live on Freeview channel 276
Visit Shots! now
Luke Delahunty, from Portsmouth, has been one of the recipients of their help – as he joined a pioneering theatre company created by The Legion, called Bravo 22 Company.
The 49-year-old served for eight years in the RAF Regiment as a Senior Aircraftman, completing tours in Northern Ireland, Cyprus, Croatia and Bosnia, but in 1996 Luke had a motorbike crash on the way to work resulting in an 18 tonne trailer landing on top of him.
He was lucky to survive, but the accident left him paralysed from the chest down and in a wheelchair. He was medically discharged from the RAF in 1998.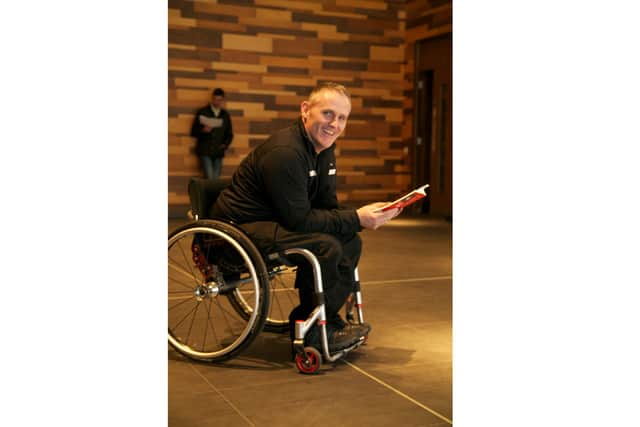 Luke went through a difficult recovery. He said : "It was very difficult to adjust to not only being in a wheelchair, but to know that you won't be going back to your military life, where your friends are your family and my situation would affect relationships with my motorbike friends – I became very frustrated.
"However, I set about turning that frustration into a positive and rebuilding my life. Being in the RAF meant adventure to me and so I began to research ways that I could explore new adventure as the accident hadn't changed my personality."
Luke was one of 26 ex-service men and women that were selected to take part in the Legion's Bravo 22 Company project with Aylesbury Waterside Theatre which saw members of the local Armed Forces community form a unique theatre company that created, produced and performed a play based on their own experiences of the military.
Luke said: "I was thrilled to join Bravo 22 as I wanted a challenge and loved being part of a team, especially when the whole concept was to create a brand new play from scratch that would include our own personal experiences. I portrayed what I do in real life which is educating patients about spinal cord injuries and delivering advice on support to those that have to adapt after such injury. To portray my own story was a great experience and the feedback I received was very positive."
Philippa Rawlinson, director of Remembrance at the Royal British Legion said: "Remembrance is about bringing communities and individuals together to honour the sacrifices of the Armed Forces community, past and present.
"This year, 60 years on, we are remembering the extraordinary contribution of the millions of National Servicemen conscripted during the post-war years, as well as the sacrifices made by those who served in the Korean War 70 years ago. We also mark the 75th anniversary of the arrival of HMT Empire Windrush and the contribution of the Windrush generation, who travelled from the Caribbean to help rebuild Britain after the Second World War.
"Our Armed Forces have played a huge part in protecting us in the past and they continue to protect our future, making sacrifices every day so we can enjoy our freedoms and way of life. This weekend we encourage people to take a moment to reflect and remember their service."