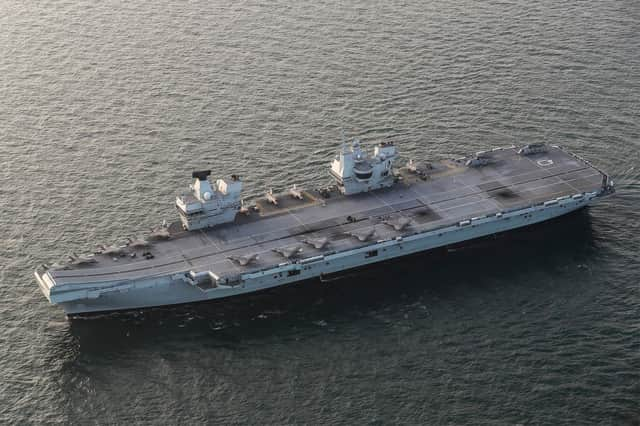 HMS Queen Elizabeth has embarked two squadrons of F-35B stealth jets: the UK's 617 Sqn and US Marine Corps fighter attack squadron 211 during an exercise last year. Photo: Royal Navy
Arleigh Burke-class destroyer USS The Sullivans will join the UK's floating ring of steel to defend the aircraft carrier when she sets sail from Portsmouth in May.
The guided-missile warship will provide a hi-tech shield protecting the £3.2bn piece of British hardware from air and submarine attack.
The American vessel will work alongside two of the Royal Navy's Type 45 destroyers from Portsmouth, a couple of Type 23 frigates, RFA tankers and support vessels and a submarine.
Pictured: USS The Sullivans on exercise with HMS Queen Elizabeth last year. Photo: Royal Navy
The addition of the Florida-based ship is the latest piece of American kit announced to join the carrier, which will also be supported by a squadron of US Marine Corps F-35 stealth jets.
The hi-tech warplanes will be operating from Queen Elizabeth's four-acre flight deck alongside a team of British F-35B aircraft.
British defence secretary Ben Wallace and is opposite number in Washington, Christopher C. Miller – who is America's acting secretary of defense – solidified the arrangement by putting their signatures to a joint military declaration.
'This joint declaration paves the way for the US Navy and Marine Corps to be joining the HMS Queen Elizabeth carrier strike group this year for the inaugural Carrier Strike 21 deployment,' Mr Wallace said.
'I am delighted that the UK now possesses a 21st century carrier strike capability, which has been greatly assisted by the unswerving support and cooperation of the United States at all levels over the past decade.
'This deployment embodies the strength of our bilateral ties and reflects the depth and breadth of this vital defence and security partnership.'
The Sullivans has already worked alongside Queen Elizabeth, sailing with the aircraft carrier last year in the North Sea during Exercise Joint Warrior.
The US warship takes her unusual name from the five brothers killed when their ship went down in Second World War – a tragedy which inspired the Oscar-winning movie Saving Private Ryan.
A message from the Editor, Mark Waldron
The News is more reliant than ever on you taking out a digital subscription to support our journalism.
You can subscribe here for unlimited access to Portsmouth news online - as well as our new Puzzles section.