Glyphosates: Campaign launched to stop Hampshire County Council using weedkiller so insects can flourish
A petition to preserve wild plants in Hampshire to protect insect habitats and food at this time of the year is on its way to the county council.
Watch more of our videos on Shots! 
and live on Freeview channel 276
Visit Shots! now
Gosport and Fareham Friends of the Earth say wild plants have an essential role in nature and have petitioned Hampshire County Council to stop using glyphosates to get rid of them.
It says after all the rain, the sun is finally allowing plants to flourish at their maximum, creating food and habitat for thousands of pollinators, but by cutting them and spraying them, all this habitat gets lost, and with it, many insects die. These chemicals also contaminate water courses harming aquatic wildlife in the process.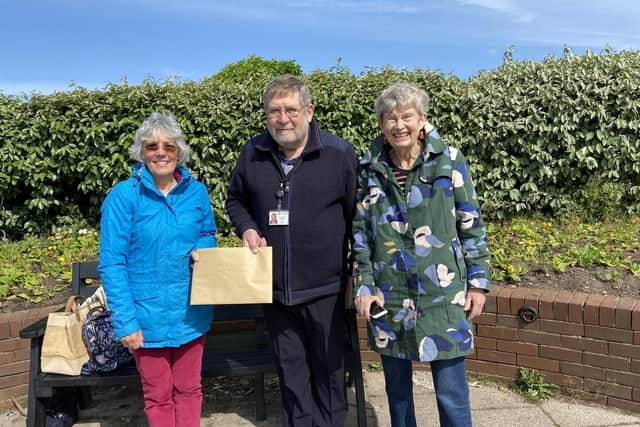 When glyphosates get into nature, everything around them gets destroyed, and they are highly persistent, meaning that they stay in the soil for a long in the future. The group's purpose is to leave the wildflowers as long as possible. However it urged the authority to not use glyphosate on the county council land when it needs to be cut.
The petition was presented on Monday (May 15) to Councillor Graham Burgess at Lee-on-the-Solent, with more than 1,600 signatures from Hampshire residents. He will present it to the leader of the council, Cllr Rob Humby.
More than 40 councils have stopped using this chemical in the UK due to its environmental impacts.
Co-ordinator of Gosport and Fareham Friends of Earth, trees and bees group, Rosey Coddington said: 'What we ask the county council is to leave these wildflowers as long as possible. At the moment, they haven't sprayed yet; they normally spray once a year. I think it is really lovely along the edges of the pavements.
'If they have to remove them, there are other methods. Over 40 counties in England have stopped using glyphosates, and several countries like France and Germany stopped using this chemical. That is our objection.
'It is deadly to insects, and that has been proven. The danger to larger animals and humans is slightly more debatable. Last year, there were people who said that when their dogs lick around where there's been this weed killer put down, the dog becomes ill. There was a lot of debate around that on Facebook last year. That was never proven, but the debate was huge.'
Rosey said alternatives were available to the herbicide, such as the hot foam system. This kills plants using heat, hand weeding, and acetic acid dilution, which is a biodegradable or electronic control system to deal with invasive species.
She added: 'We feel that people should learn to embrace these wildflowers because they are such an important habitat.
'There is this thing of "no mow May", and if you do that, you will see lots of different little wildflowers coming through.
'We have been speaking to the council about this "no mow May" and asking if they can leave a bit longer, but then people complain to the council about how untidy the place is.
'It is certainly difficult for the council, but I think it's a matter of trying to change people's attitude from "that's a mess" to "it's lovely".'
The International Agency for Research on Cancer (IARC) has classified glyphosate as a probable human carcinogen', and it is the most widely used herbicide in the world.
Here's more information about Gosport and Fareham Friends of the Earth and its campaigns.