Angry Gosport parent removes child from school over female toilet row
A parent angry at his child being told to use a unisex toilet instead of a female lavatory has removed his girl from the school after she was suspended over the incident.
Watch more of our videos on Shots! 
and live on Freeview channel 276
Visit Shots! now
Brune Park Community School in Military Road, Gosport, apologised and partly upheld the parent's complaint over the matter, as previously reported.
But the Gosport dad was left seething about his daughter's treatment from the teacher in question and the school. The parent was further riled at the school's response, calling it a "blanket apology" and said the school was "hiding" the teacher's "abuse of power" in its handling of the incident.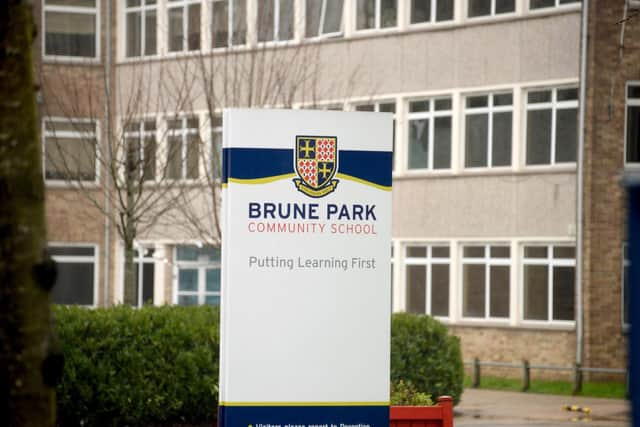 Now the dad has revealed to The News he has taken the decision to pull his daughter out of the school permanently such is his fury at their handling of events. "I have now removed my daughter from Brune Park," he said.
The parent has a final meeting with the school where he intends to further air his grievances. He has applied for his daughter to attend another nearby school.
As reported, the girl was suspended for one day on October 12 after refusing to use a unisex toilet because it made her feel "unsafe and dirty".
Outlining his grievance, the pupil's dad previously said: "A male teacher at my daughter's school refused her access to a female toilet, giving her an ultimatum to use a unisex toilet or not to go at all. To add to the problem my daughter was subsequently suspended because she contacted me to tell me what was going on and refused to hand over her phone.
"My daughter now has a suspension on her school record for stating she wanted to use a female toilet because the unisex ones make her feel unsafe and dirty, without so much as a question asked of this teacher."
A letter from the school to the pupil's parents, seen by The News, said: "The decision to suspend (the child) has not been taken lightly. (She) has been suspended for this fixed period because on October 11 (she) was persistently defiant."
A spokesperson for the school later added: "We don't comment on individual cases. There are gender specific toilets in the school which children have access to at all times."
Headteacher Kerry Payne said in a letter, seen by The News, to the child's parents "As a consequence of our review I do in part uphold your complaint and apologise for the upset caused to (the pupil) and yourself at this time. We have, as a consequence of your complaint, further reviewed access to toilets across the school; provided additional training to all staff about listening to student preference and ensuring that gender specific toilets are available if required.
"We trust this resolves your concerns. Should this not be the case we would suggest mediation with (the pupil), the member of staff and yourself. Should you feel this is necessary please let me know if you would like me to arrange this for you and (the pupil)."
But responding to the school's letter the dad was less than impressed, saying: "I'm outraged they have issued a blanket apology to cover themselves knowing full well what has truly happened. They have tried to hide a teacher's blatant abuse of power over children, because that's what it amounts to as he refused the request just because he thought he could.
"I just wanted an apology for my daughter from the school on behalf of that teacher to show her that adults are not without consequences - as we so often teach our children. Yet this has yet not been forthcoming."