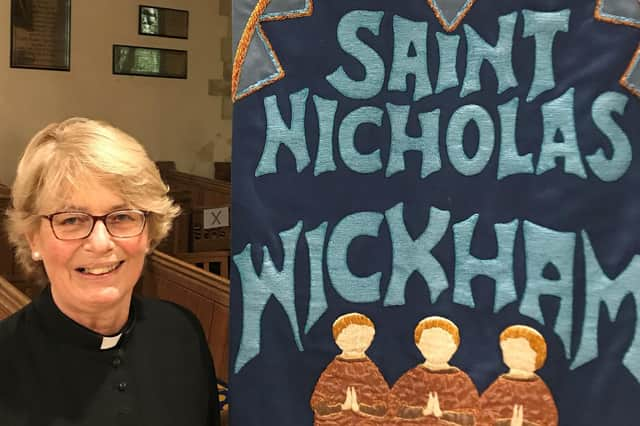 Rev Jane Isaac, from St Nicholas Church, in Wickham
Singers from the Igloo Choir put together the song - entitled 'Call the Changes' - to help worshippers celebrate 900 years since the creation of St Nicholas Church in Wickham.
The church had planned a whole year of celebration during 2020, but most of the events had to be cancelled because of the Covid pandemic.
After a launch event in December 2019, events that had been planned during the rest of the year were unable to take place.
However, the Igloo Choir, run by Dielle Hannah, wanted to mark the occasion with something special.
The choir, which is based in Wickham, was also celebrating its 10th anniversary and its members were delighted to have something to focus on when their normal monthly meetings were not able to happen in person.
Dielle said: 'Recording the song became the Igloo Choir's lockdown project, followed by the idea to make a video, once we realised we could record Zoom sessions.'
Rev Jane Isaac, from St Nicholas Church, in Wickham
They created the song, inspired by the church bell ringers, recording it via Zoom and uploaded it to YouTube.
Choir members said it gave them hope during lockdown, with many of them learning new digital skills to take part.
Carolyn Stallard, 55, from Hayling Island, said: 'It was great to see everyone, and make the best of the situation.'
Hayley Durrant, 38, from Gosport, said: 'I'm really proud that we have produced something to mark the occasion.
'I absolutely love the finished version, its hard to believe we all recorded ourselves at homes on our phones, the quality is really good and sounds so good, I'm so proud to have been part of it.
'It's such a positive thing to have come out of lockdown and helped us all feel together even when we were forced to be apart.'
David Ford, 79, from North Boarhunt, said: 'It was very rewarding to be part of creating a YouTube performance of the new song under Covid-19 restrictions. So, I'm very pleased we did it and had great fun in doing so.'
The video was praised by parish priest, the Rev Jane Isaac.
She said: 'The video was wonderful. It demonstrated how much the village is part of the life here, it showed through the song.
'It was a real highlight after a challenging year.'
A message from the Editor, Mark Waldron
The News is more reliant than ever on you taking out a digital subscription to support our journalism.