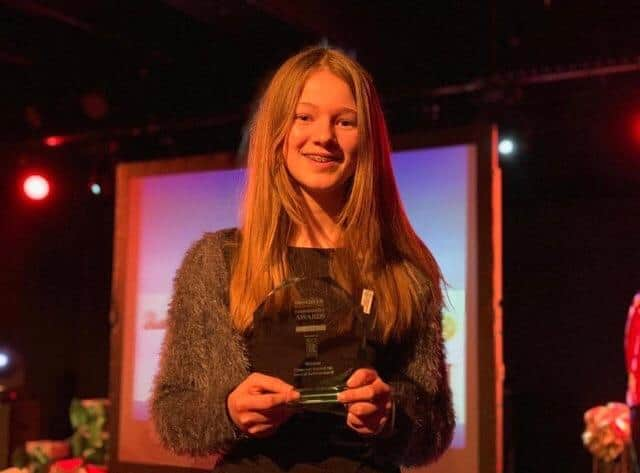 Jess Webb has already raised more than £12,000 for a Huntington's Disease charity
Jess Webb, who lives in Emsworth is set to face the sponsored challenge on June 6.
She will be raising funds for the Huntington's Disease Association, a charity that is important to Jess as she has sadly lost two family members to the disease - her grandad, who passed away in 2008, and her uncle Andrew, who died in 2017.
Jess said: 'My uncle Andrew did a skydive in aid of Huntington's Disease in around 2008, so I feel humbled that I am able to participate too!'
Jess's uncle Andrew doing a skydive in about 2008
Jess will jump from a height of 15,000ft, the highest a tandem skydive can be in the UK.
She said: 'Currently I am very excited and I am hoping to raise lots of awareness and funds for such an important cause so I am eager for it to happen.
'No nerves yet, but I'm sure they will come nearer the time.
'It is something I have been wanting to do for years so I am super excited!'
Mum Sarah Webb said: 'Jess just blows us away, so much of it she does on her own - she organises everything herself, does all the phone calls, it's quite amazing.
'We are extremely proud of her and in awe of how dedicated she is to the charity.
Jess had several fundraising events planned for 2020, including a charity football match and a supercar track day at Goodwood.
She said: 'I was hoping to smash £20,000 before March 21, 2020, my 16th birthday.
'However due to lockdown these events have had to be cancelled or postponed.'
Despite these disappointments, Jess is determined to keep raising money for the cause and is now preparing for the tandem skydive, which will take place in Salisbury this summer.
Jess said: 'It has been very tough being brought up around Huntington's Disease.
'I raise funds so families can get the support and equipment needed.'
Although her current goal is £495 Jess says that she would love to raise even more, and also hopes that her skydive will increase awareness of the disease.
Jess says that she is inspired by her 'hero' granny, who was a carer for her grandad and uncle when they needed full time support and looked after them both for about 20 years combined.
Sarah said: 'Jess has got a big heart and she could see how it affected the family.
'Now she wants to help other families and raise awareness.'
A message from the Editor, Mark Waldron
The News is more reliant than ever on you taking out a digital subscription to support our journalism.