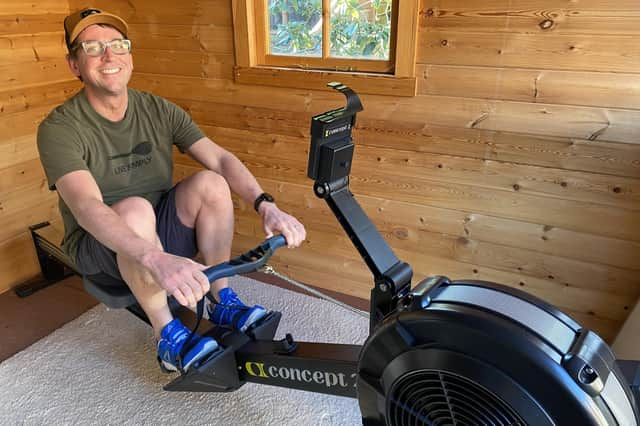 Mark Potter from Emsworth is set to take on an endurance rowing challenge to raise funds for Noman Is An Island and their charity partner The HPV and Anal Cancer Foundation
As part of a five-man crew, Mark Potter is set to row continuously for 200 nautical miles between Barcelona and Ibiza to support a charity's mission.
The 46-year-old is raising funds for NOMAN Is An Island and The HPV and Anal Cancer Foundation.
The charity campaigns for universal vaccination of boys and girls against human papillomavirus (HPV) which causes five per cent of cancers.
This endurance rowing event is one of the charity's main fundraising and awareness campaigns, and Mark is trying to raise £10,000 in support of its aims.
Business analyst Mark said: 'In lockdown you need a focus, so I looked around to see what cancer charities there are. I didn't realise HPV is the causal agent for five per cent of cancers.
'I was particularly enamoured by how this charity works to eradicate cancer. When I realised they did endurance events I was sold.'
Mark is currently training six hours a week for the July event, which will see him take on gruelling two-hour shifts of rowing and rest with a team of four other like-minded amateur rowers.
Most crews take about three days, however Mark will attempt to break the record of 54 hours and 30 mins to transit between Barcelona and Ibiza.
Mark said: 'I'm hoping my crew will be up for trying to beat this record. It should add a bit of interest to the row itself.
'I think it'll be good and I'll come out of it having learned a lot about myself. I'm a bit worried that I'll fall in love with sea rowing and have to come back to my job!
'I know it's going to be hard and difficult and I'm accepting that. I'm going to go through a little bit of pain for everyone else's gain.'
Mark has already raised more than £800 towards the charity's work which includes campaigning for countries to vaccinate against HPV, which causes cancer in both men and women.
You can follow Mark's training efforts and journey on Instagram @Oardinarybuoy and the boats are available for corporate sponsorship.
A message from the Editor, Mark Waldron
Our trial offer starts at just £2 a month for the first two months.