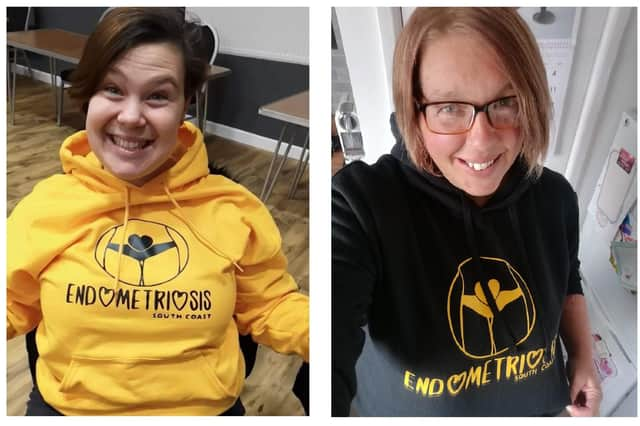 Endometriosis South Coast will be taking on a 19-mile walk to raise funds and awareness. Pictured: Founder Jodie Hughes and trustee Mel Slama-Hardy
Supporters of Endometriosis South Coast will walk from Princess Anne Hospital in Southampton to Cosham's Queen Alexandra Hospital and on to Gunwharf Quays.
This walk, organised by charity founder Jodie Hughes, is set to raise the profile of Endometriosis Awareness Month, taking place throughout March.
Endometriosis is a gynaecological disorder causing pain, inflammation and heavy bleeding, affecting one in 10 people who were born female.
Jodie, from Havant, has lived with the condition since she was 11.
The 36-year-old said: 'We wanted to raise awareness of endometriosis because statistics tell us there are 10,000 people in Portsmouth that could potentially have it.
'Getting the word out there and raising awareness of endometriosis could help one of those people to come forward and seek support or go to the doctor about it.'
The group of walkers on March 27 will include trustees Robyn Gentle from Clanfield, Mel Slama-Hardy and Krystle Issitt, both from Portsmouth, and Chichester resident Steff Moore.
It is hoped that the Spinnaker Tower will be lit yellow for endometriosis awareness.
More than £1,000 has already been raised before the socially distanced walk, which will help keep the charity's support group services and education schemes running.
Jodie said: 'We're working on education in schools. Teaching kids about different menstrual issues is massive, I don't think people are open and honest enough yet about their periods and that needs to be normalised.
'It's never going to become an everyday thing to talk about until we have got to the kids and they realise it's not a dirty word and talking about what they're going through isn't taboo.'
According to the charity, 46 per cent of patients with endometriosis met with five or more doctors to gain a correct diagnosis.
Jodie, who has been running support groups virtually, said: 'We would really like to put on a special treat for the people that are involved in our online support group to cheer them up and to raise some awareness for this disease.
'We're working quite hard behind the scenes for mental health support for people that suffer with endometriosis.'
A message from the Editor, Mark Waldron
Our trial offer starts at just £2 a month for the first two months.