Great British Bake Off 2023: Meet contestant Keith Barron, an accountant from Lee on the Solent
Apple pies and fairy cakes were just the beginning of a baking journey for Hampshire chartered accountant Keith Barron who is one of this year's contestants in the Great British Bake Off.
Watch more of our videos on Shots! 
and live on Freeview channel 276
Visit Shots! now
The 60 year old from Lee-on-the-Solent learned to bake with his mum whose lessons form the baking backdrop to Keith's childhood, along with his mum's love for traditional dishes from her home in Malta. Since those formative years, Keith has never stopped baking.
Recently, though, he has returned to the baking books of the early 1970s to attempt recipes that were once 'beyond' him. He loves the challenge of taking on more complex bakes and has grown in confidence with bread and as a result his partner, Sue, has got very used to waking up to the smell of a freshly baked loaf!
They live with their poodle, Maisie, just a few steps from the sea.
Did you ever dream that you would actually get into the Bake Off tent, and what was your reaction when you got the call confirming your place?
Not in the slightest. Disbelief at receiving the phone call and some anxiety about making an idiot of myself on national telly.
Are there any particular series of Bake Off that stand out to you and which past bakers have inspired you, how and why?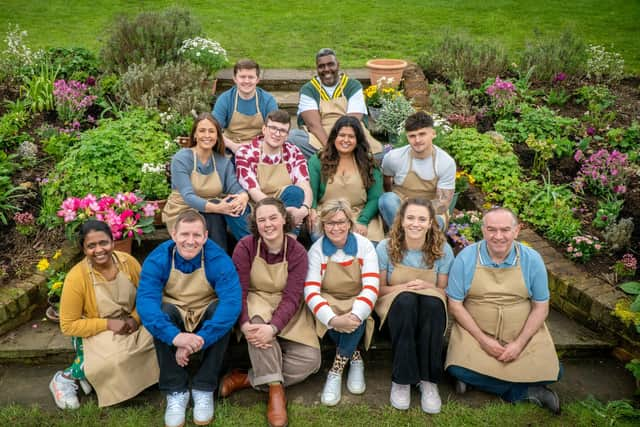 Series 5 (Martha – youngest ever contestant; Enwezor – lives near me and who once overtook me in a triathlon and was too far away when I realised and yelled "you're the bloke from Bake Off!"; Iain - Bingate). I frequently use recipes from books by: Candice Brown, Jo Wheatley, Liam Charles, Edd Kimber. My favourite though is Martha Collison. I really like Martha's style of explaining the science and technique of her baking without being patronising. I've also received more plaudits when I've done her recipes than anyone else.
In the very first week of filming what special memories do you have of that time?
Everyone having such a great time, some of the group photoshoots we had to do, meals and chats with the gang, feeling very fortunate to be in the mix with a bunch of exceptionally talented people. Witnessing how these seemingly ordinary people became extraordinary after getting hold of a spatula and a piping bag.
As a baker what would you say are your strengths….and what are your weaknesses?
Strengths - flavours, precision with ingredients, good at tweaking recipes; Weaknesses – decoration and finesse
If you were pastry would you be shortcrust, rough puff or a flaky filo? And why?
Obviously I'd be a "short" pastry due to my stature. My mum was Maltese and only 4ft 10" so I reckon I've overachieved in reaching 5ft 5 3/4"
Is there any kind of cake or biscuit that you really don't like and what is your all time favourite?
All time favourite has to be a rich fruit cake and the only other things I'm not really partial to is anything with coconut.
What was it like meeting Alison and Noel for the first time, any funny moments?
Alison is like a force of nature and it was evident that she LOVED being in the tent and being part of the Bake Off team. Noel is far more laid back very cool and it is obvious that he feels the same but in a more understated way.
Can you describe seeing the big white tent for the first time and walking in towards your workstation?
Quite surreal. It was very much a "deep-breath / pinch-yourself" moment and I kept thinking about how all my family and friends would react when they get to see it on telly.
Give us one fact about being in the tent that you didn't realise after having watched the series previously?
The floor is quite wobbly!!
The Great British Bake Off will start at 8pm on Tuesday, September 26. It will be shown on Channel 4. The show will also be available online on Channel 4's catch-up service, All 4.