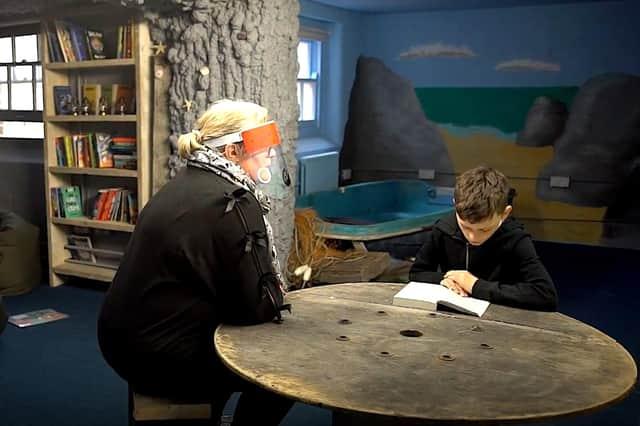 Inside 'The Cave', a volunteer reads with a student from the Pompey Pirates. Picture: Literacy Hubs
Statistically, children living in poverty start school with vocabularies up to 19 months behind their better-off peers and are twice as likely to leave secondary school without good GCSEs in English and maths.
Literacy skills are essential to any child's progression – they are the foundations of good communication, from speech to reading and writing.
Some children in our city are falling behind. But thanks to the incredible work of the Literacy Hubs, founded by Becca Dean, there is now additional support outside the classroom.
Inside the Omega Centre, Southsea, where the Pompey Pirates are based. Picture: Literacy Hubs
Becca, who also founded the Portsmouth-based charity Girls Network, says: 'I trained as an English teacher and worked at one of the most-deprived schools in the country in London, which had incredibly low literacy levels.'
Becca stepped away as CEO of the Girls Network in 2019 to establish the Literacy Hubs with the help of its founding partners, Portsmouth City Council and the University of Portsmouth. They opened their first hub called the Pompey Pirates at the Omega Centre, Southsea, in September 2020 which has been decorated to look like a pirate ship. It's where the children were taught in September before lockdown two by teachers, called captains, and volunteers, called crewmates.
Natasha Turner, an ex-history and politics teacher, is one of the 'captains'. She says: 'My role is putting together the activities and making sure the projects help students progress. I'm not sure we would have quite such a good reaction to Zoom sessions, which is what we're doing now, if we didn't have the time with them in September.'
The hub currently works with 75 children ranging from years five to eight. Becca, 32, explains: 'We work closely with schools – namely Arundel Court, Milton Park, St Swithun's and St Edmund's – with students who have free school meals coupled with low literacy levels.'
Becca Dean, founder of the Literacy Hubs.
The programme focuses on three core areas: confidence, perseverance and literacy. Becca says: 'Once they persevere and are confident, their literacy skills will improve. We achieve that through projects, such as the book we published in December. We are now writing radio scripts and the third project is a short film which will be shown at No6 Cinema.'
Born out of this concept is the published book called The Adventures of Captain Rogers, which compiles 70 short stories, written by the children from Pompey Pirates. Natasha, from Emsworth, explains: 'From the first session, it gave us such an amazing hook for the children to say "by Christmas, you're going to be published authors".
'We told them a story about Captain Rogers who walked into Pigeon Books and left lots of photos in the shop, saying he had really exciting stories to go with them and he would come back the next day to tell those stories. But he never returned. We gave the images from Captain Rogers to students to inspire them to write a story.'
What followed were months of drafting, re-writing and reading largely supported by volunteers, who help the children in one-to-one sessions. One of those volunteers is Dave Allport, 65, who works as a vessel traffic service officer in Portsmouth dockyard, and lives at Cowplain. He says: 'I was very fortunate as a child to be encouraged by my parents to read and love stories. I have always thought that if you invest in children, they will become better adults.
Natasha Turner, one of the 'captains' at Pompey Pirates.
'This week, I have helped with two Zoom sessions and it normally depends on my shifts, but initially we would go to the centre. I find it very rewarding and I was proud to be involved in the book. The children have brilliant imaginations and I think they benefit from one-to-ones.'
The book was officially published in December 2020 and sold in Pigeon Books, Southsea, with all proceeds going directly to the Literacy Hubs. Phil Davies, the co-owner of Pigeon Books, says: 'We were delighted to be asked to sell the book – one of the things we were super excited about when we opened was to be involved with local schools and groups so this has been a wonderful experience. The book has been incredibly popular so far – we sold our first batch in a few days, and had to put people on a waiting list while we waited for the next print run!'
Natasha says that the first Zoom call with the students after the book was published was emotional. 'We posted the book out to them with a pack for their next project and during the first session back, they were all sat holding their books up to the screens.'
Isabelle Walsh-Deakins, a year six student at Arundel Court School, says seeing her work in the book made her 'proud'.
Volunteer Dave Allport. Picture: Ian Hargreaves (100429-2)
Isabelle, 10, explains: 'Pompey Pirates have helped me a lot with the work I have written. Now the sessions are on Zoom but I still really enjoy them.'
Mum Leanne Deakins adds: 'It's been really nice to see Isabelle enjoying her literacy work. Now she is doing the Zoom sessions at home, I can see how much effort the team and especially the volunteers put into the sessions – they do such great work without being paid.'
Now the Pompey Pirates are gearing up for their next project: writing persuasive speeches about palm oil which will be read out on Express FM at the end of this school term. In just a few months, it is clear the impact the Literacy Hubs has had on the city.
'These children are the next generation of Portsmouth and what we're trying to do is make sure they're in a position to really thrive. If they're thriving, the city is going to thrive,' adds Natasha.
The Literacy Hubs need you
To conduct their great work, the Literacy Hubs rely heavily on their 80 volunteers.
Isabelle Walsh-Deakins with her copy of The Adventures of Captain Rogers. Picture: Leanne Deakins
This September they plan to expand their programme to another 60 children and thereby, will need more help.
Becca Dean says: 'To become a volunteer, we ask them to have good literacy skills, be able to give time to 15 sessions per year and be 18 and over.'
Volunteer Dave Allport explains: 'We are able to dedicate time to building their rapport in a more relaxed environment away from school.
'As much as it's important for them, it's important for the volunteers to do something different with their time and meet new people, albeit virtually. So it's a win-win for the children and adults.'
The Adventures of Captain Rogers in Pigeon Books, Southsea.