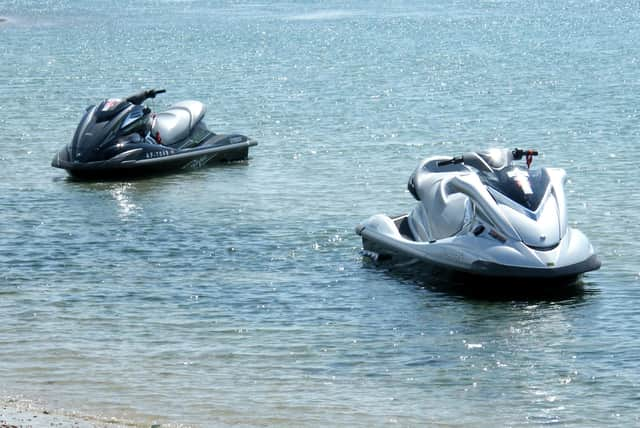 Moored up jet skis at the harbour.
The harbour, a popular destination for jet skiing, welcomes responsible skiers and anticipates a busy summer.
However, changes are being introduced after incidents last year in which a minority of water sports enthusiasts broke rules and put themselves and others in danger, leading to a number of successful prosecutions by Langstone Harbour Board (LHB).
New harbour master Billy Johnson is implementing the new rules to keep visitors safe.
Langstone Harbour Master Billy Johnson
He said: 'Most of our skiers abide by our rules, but a minority do not and this tarnishes the reputation of the reputation of the community as a whole by spoiling the enjoyment of Langstone Harbour for other people.'
LHB has a long running jet ski permit scheme which requires all participants to abide by harbour bylaws including the 10kt speed limit.
From this year, participants will be required to send copies of their insurance certificates to be eligible for a permit.
Skiers without formal qualifications will also be told that they will need to enrol in a certified jet ski accreditation course this year, as permits will not be issued without a qualification next season.
Billy added: 'I hope the new permit requirements will weed out those persistently breaking the rules and make the harbour safer for everyone.'
In addition, anyone wishing to use a kayak, canoe or stand up paddleboard within harbour limits will be required to pay harbour dues.
Louise MacCullum, environment office at LHB, said: 'Langstone Harbour is a very special place for wildlife, and kayaks and SUPs are a great way to explore the harbour.
'Sometimes though, without meaning to, people can get too close to wildlife causing disturbance and distress.
'Requiring participants to get in touch with the harbour office to obtain harbour dues will allow our team to provide these users with maps, information and guidance about watching our wildlife responsibly, ensuring its survival for future generations to enjoy.'
For more information about how the Langstone Harbour Board is managing safety and safeguarding wildlife, visit langstoneharbour.org.uk or call 023 9246 3419.
A message from the Editor, Mark Waldron
The News is more reliant than ever on you taking out a digital subscription to support our journalism.