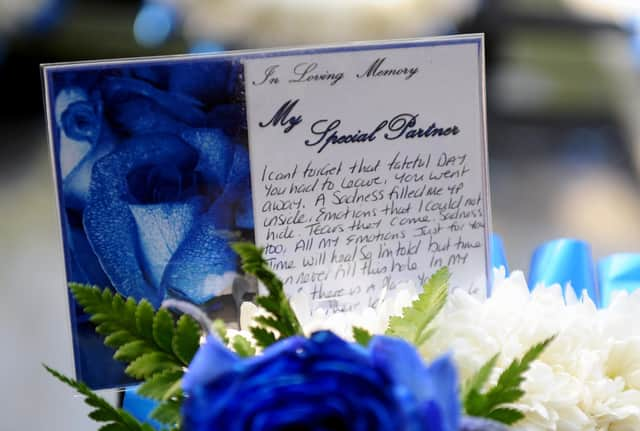 A heartbreaking message from Dom Merrix's grieving partner, Sarah. Picture: Sarah Standing (270420-8009)
Well-wishers from across the city united to give a ceremonial guard of honour to well-known football coach Dom Merrix.
The beloved 48-year-old suffered a fatal heart attack on April 9 at his home in North End after appearing to have recovered from Covid-19.
His death sparked a city-wide outpouring of grief, with fans from Portsmouth Football Club rallying to support Dom's heartbroken partner Sarah and her 10-year-old daughter, Ellie-Mai.
Dom Merrix's hearse arrives at Portsmouth Football Club via Frogmore Road, Portsmouth. Picture: Habibur Rahman
Remarkably, the community raised more than £12,000 in a matter of days to pay for Dom's funeral, which took place at Portchester Crematorium yesterday.
Now, an overwhelmed Sarah has thanked the city and the club for everything it has done during her family's darkest hour.
Speaking to The News, the heartbroken 44-year-old said: 'I don't think people really understand how much this means to myself and my little girl, to pay off Dom's funeral and bills is just such a weight off my mind at this awful time in our lives.
'The shock of what happened on that day has still not sunk in and we still feel like Dom will walk in the door and say he's home but then the reality sets in. We are both trying our best to stay strong but it's hard.
Devoted dad and Pompey fan Dominic Merrix died suddenly after appearing to recover from Covid-19. His funeral took place at Portchester Crematorium on Monday, April 27. Picture: Sarah Standing (270420-7996)
'Thank you everyone from the bottom of our hearts we will forever be grateful to you all.'
Dom's final journey began outside his family home in Langley Road.
Transported in a customised blue hearse and casket, both emblazoned with the logo of his beloved Pompey, the dad-of-one travelled through Copnor towards Fratton Park where he had watched the Blues play since the age of five.
Scores of people, wearing full Pompey kit, lined the route. Nurses and medical staff from St Mary's Hospital in Milton also stood by the road to pay their respects.
Devoted dad and Pompey fan Dominic Merrix died suddenly after appearing to recover from Covid-19. Pictured are his daughter. Ellie-Mai, 10, and partner Sarah as they arrive at Portchester Crematorium holding flowers. Picture: Sarah Standing (270420-1120)
Dom's hearse stopped outside Fratton Park's gates in Frogmore Road, where a tearful Sarah and Ellie-Mai stepped out from the cortége to embrace.
Dozens of Pompey fans, family friends and Dom's former colleagues watched on silently, with some throwing blue roses into the road.
Among the wellwishers was Ashleigh Fountain, who is a friend of Sarah and knew Dom through Pompey.
The 24-year-old said: 'Dom was a larger than life character. He was so friendly and was just a lovely man.
Well-wishers at Portchester Crematorium sporting Pompey uniforms in honour of beloved fan Dom Merrix Picture: Sarah Standing (270420-1129)
'There's been a great turnout despite the lockdown measures. It just goes to show the community of the club, that even in times like these we will come out to show our support.
'It's a testament to how many lives Dom touched and how much he was loved by everyone at the club.'
Dozens of people greeted the funeral procession when it arrived at Portchester Crematorium.
Sarah and Ellie-Mai broke down as mourners gave them a standing ovation from the entrance of the crematorium.
Among those outside the crematorium were some of Dom's former colleagues from the company – which made him redundant weeks before his death.
Ian Frost, 52 of Waterlooville, had worked as Dom's shift partner for eight years. He said: 'He was a lovely guy, who was outspoken and a real laugh. It's hard to think he's gone now.'
Heartbroken Sarah Merrix hugs her daughter Ellie-Mai, 10, during the funeral.. Picture: Sarah Standing (270420-1122)
Colleague Steve Alderman, 51, of Emsworth, added: 'We were all gobsmacked when we heard he had died. I'm never going to see Dom again. That's really hard.'
With social distancing measures in place, only 13 members of Dom's 'large family' were able to attend the service, led by celebrant Dawn Traer.
During the 15-minute ceremony, tributes were paid to Dom, who was described as an 'amazing man' who gave 'the best hugs'.
Sentimental tunes were played during the service, including 'Say You Won't Let Go' by James Arthur and 'Breathe' by Camelphat and Christoph.
Sobs could be heard from Sarah and Ellie-Mai as Mrs Traer recounted the family's 'perfect' holiday to Disney in October, where they swam with dolphins.
Dom's passion for sport was also remembered, as well as his role as a coach for Portsmouth's girl's team, Fleur De Lys Football Club, where Ellie-Mai is a player, a job Dom 'adored'.
Mrs Traer said Dom was taken to his first game at Fratton Park 43 years ago by his late uncle, Arthur.
But she said the biggest love of his life was his family and that meeting Sarah in 2008, while they worked at SSE, had been a turning point.
Concluding the service, Mrs Traer said: 'Dom will be remembered for the wonderful man he was. He leaves a legacy of love and happy memories that will never be forgotten.
'He is a true Blue through and through. He was an amazing man. He will be missed by so many.'
Devoted dad and Pompey fan Dominic Merrix died suddenly after appearing to recover from Covid-19. His funeral took place at Portchester Crematorium on Monday, April 27. Picture: Sarah Standing (270420-8001)
Dozens of people stood outside Fratton Park to pay tribute to popular Pompey fan Dom Merrix as his hearse arrived in Frogmore Road. Picture: Habibur Rahman
Dom Merrix is carried into the Portchester Crematorium as family and friends watch from a distance. Picture: Sarah Standing (270420-7986)
Dom Merrix personalised casket Picture: Sarah Standing (270420-1115)
Dozens of people clapped as Dom's funeral cortége arrived at Portchester Crematorium Picture: Sarah Standing (270420-7961)
Brave Ellie-Mai, 10, clutches flowers and a personalised pillow with family photos on it as her dad's casket is transported into Portchester Crematorium Picture: Sarah Standing (270420-1121)
Tributes left to Dom Merrix Picture: Sarah Standing (270420-8006)