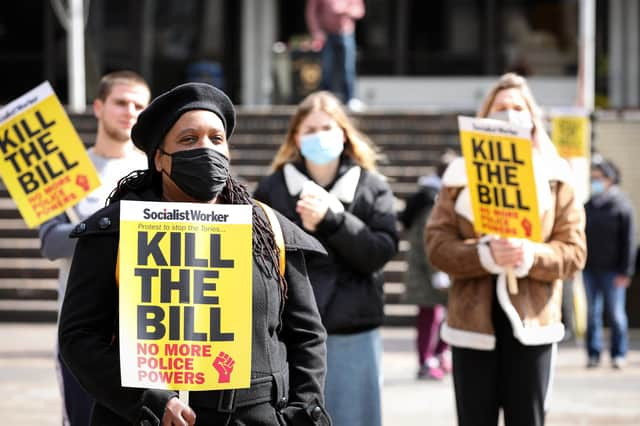 A previous demonstration against the Police and Crime Bill in Guildhall Square, Portsmouth. Picture: Chris Moorhouse (030421-22)
The march is set to take place on Saturday, May 1, International Workers Day.
Organised as a joint event, the May Day rally at Guildhall Square will lead into a Kill the Bill march, ending at Southsea Bandstand.
From midday until 1.30pm, Portsmouth Trades Council has organised a rally to defend the right to protest.
This will be followed by a march, organised by the Kill the Bill campaign, which will head from Guildhall Square at 1.45pm to the bandstand, where speeches will be made.
Event organisers say that under the new bill, penalties for organising any effective protest are staggering.
Jon Woods, chairman of Portsmouth TUC, said: 'The Police, Crime, Sentencing and Courts Bill is the most serious attack on civil liberties for generations, brought in while people are preoccupied with Covid.
'It will make any effective protest illegal if it even causes annoyance or is too noisy.
'It gives huge amounts of power to the police, even though there's no need for additional legislation. It also gives huge power to the home secretary.
'Whatever your political views, we have the right to protest, and that's what's at stake.'
Speakers from Trade unions and Labour movements will be given talks at the event.
There will be social distancing and everyone is encouraged to wear masks for a safe protest.
Kiera Power is one of the event organisers, representing Extinction Rebellion Portsmouth while working with the Kill the Bill coalition.
She said: 'It's important because we didn't get where we are today without protest.
'Not many people would say women shouldn't be allowed to vote or that gay people shouldn't have rights, but we get these legislative changes through protest.
'The bill feels like a tiptoe towards authoritarianism and not the civil society we want to be'
International Workers Day celebrates how workers around the world have joined together to fight for the right to be in a trade union, to go on strike, for equal pay and paid holiday, and for the right to vote.
Visit here for more about the Trades Council rally.
More can be read about the Kill the Bill march here.
A message from the Editor, Mark Waldron