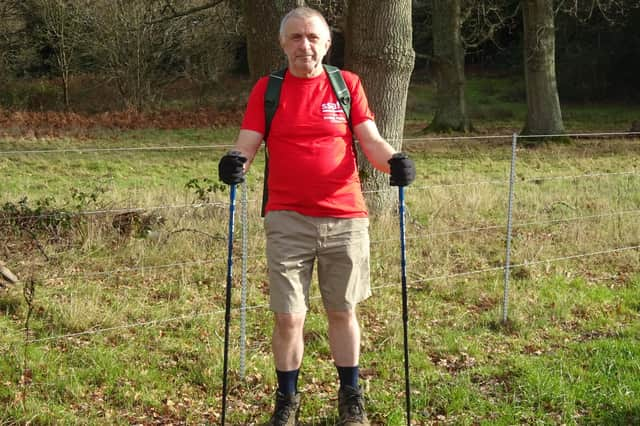 Rob Moriarty will be climbing each of Scotland's 282 munros as a retirement project to raise funds for SSAFA
In training to climb all 282 Scottish Munros, Rob Moriarty from Rowlands Castle hopes to raise as much as possible to give back through the charity SSAFA.
Rob, 65, has climbed Ben Nevis three times, with his most recent effort in 2017 raising more than £670 for Help For Heroes.
A Munro is a Scottish mountain over 3,000 feet, and Rob's huge upcoming challenge will see him climbing each Munro in the country.
Retired heavy goods driver Rob, who hopes to begin on the D-Day anniversary on June 6, said: 'I think the closer I get to it, I realise how big a task it is I've decided to do.
'When I contacted SSAFA last year, I realised that was a point of no return. I can't turn back.
'There's not enough done for the Armed Forces by the government in aftercare. I just want to pay back the fact that I haven't served and give them something they can fall back on if they need to.'
There is also a personal connection - Rob's uncle was a flight engineer on a Lancaster in World War Two and was killed at just 18 years old.
His uncle's father was a chief stoker in the Royal Navy during both world wars and Rob's brother served in the RAF for 22 years.
Rob, who is inspired by explorer Sir Ranulph Fiennes, said: 'It has been pleasing to see how much the Rowland's Castle community is aware of, and supports, our Armed Forces.
'I'd like to raise millions, but I just want as much as possible for these people who keep us free.'
The project was planned to begin in 2020, but unfortunately the pandemic delayed the start.
This has given Rob more time to prepare, losing two stone in the process, and he is looking forward to hopefully taking on Ben Lomond as his first climb in June.
If any local residents are planning a walking or climbing holiday in Scotland over the next few years and would like to accompany Rob on climbs, email [email protected]
A message from the Editor, Mark Waldron
Our trial offer starts at just £2 a month for the first two months.