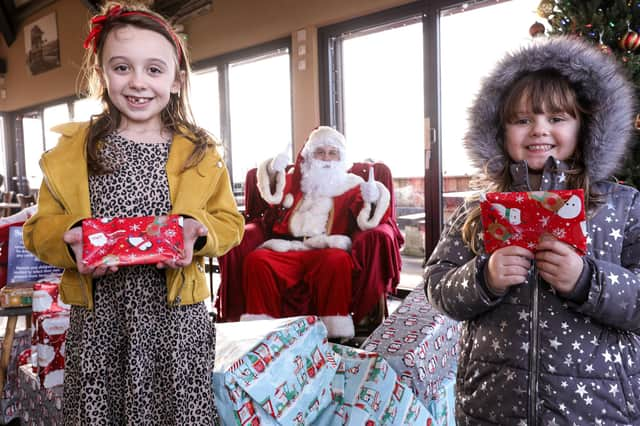 Renei Mackley, nine, left, and her sister, Pixie Smith, five, meet a socially-distanced Santa Claus at the Coffee Cup, Eastney Esplanade, Southsea. Picture: Chris Moorhouse (121220-16)
Santa Claus and his team of helpers had set up their stall inside of Coffee Cup, in Eastney Esplanade, Eastney today.
Scores of delighted youngsters were able to say hello to the big man as he presented them with presents.
This year's festive bonanza was different to previous incarnations, with social distancing rules limiting interactions.
But despite the change, organisers hailed the morning a 'magical success'.
Adam Parsons, business manager of the Coffee Cup, said: 'Everyone that I saw had a big smile on their face and were saying how lovely it was.
'For many of the kids, this was their first time seeing Santa. It was magical to see their reaction.'
About 100 presents were on offer to children during the weekend winter showcase.
Adam added he had to increase the size of the grotto to give people enough space to socially distance.
It meant less tables were available for customers, limiting the number of people in the café.
But Adam said: 'It was worth it. This year has been incredibly tough and people have been so supportive of us. We wanted to give something back.
'We've been absolutely thrilled by all the support and can't thank people enough.'
A message from the Editor, Mark Waldron
The News is more reliant than ever on you taking out a digital subscription to support our journalism.