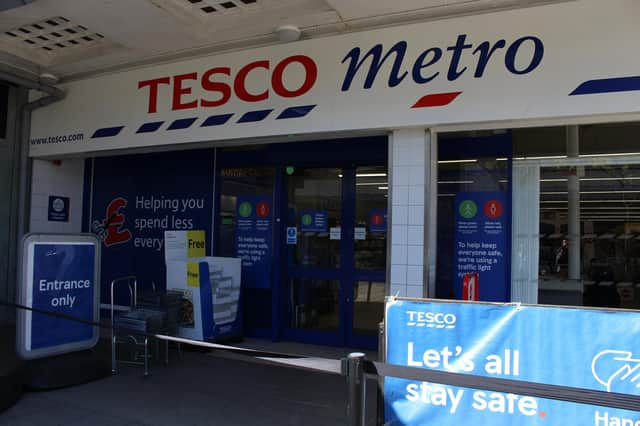 Tesco Metro on Graywell Road in Leigh Park is set to close on June 26. Picture: Emily Turner
Following a 'long term sustainability' review by the company, bosses decided that the shop in Greywell Road will close its doors for the last time on June 26.
Many locals have spoken out about their upset at this news.
Danielle Falkes, who lives close to the shop, said: 'It'll be a pain in the backside, to be honest. Very inconvenient, devastating that it's going.
Many locals have said that they are 'disappointed' and 'sad' to hear news of the shop's closure. Picture: Emily Turner
'It's my local shop so it's very convenient - I don't drive, so it's easier to get to for something.'
Caroline Setford said: 'It will be sad to see it go, it's my local Tesco I can just pop into that doesn't involve hoards of people!'
Barry Doughty, lives on Middle Park Way and said that he has spent most of his 60 years of life visiting the Tesco shop.
He said: 'I'm really disappointed, this is terrible news.
'I've been reading that Tom Moutray is promising that he'll improve our shopping areas like Park Parade if he's elected. I hope that he does what he promises.'
Shopper Kayleigh Stanley said she visits the Tesco Metro because it fits in with picking up her children from school.
She said: 'It's a bit gutting for people, especially older people living in the flats nearby.'
Another shopper, Joseph Carter, said that he would be willing to speak up in a public meeting to defend the shop.
He added: 'It's disabled people who live locally that I worry about.
'It's our shops, it's our grocery place. I'm quite disappointed.'
On Facebook, commenters expressed their sadness at news of the closure.
Louise Gale said: 'Be strange with it gone, been there for as long as I can remember.'
Maz Gee added: 'Tesco will lose many customers, I myself can't do the big Tesco and its too big and too busy. The older people who live near there will have to travel further and pay out for taxis, it's not fair on them.'
Sam Heather said: 'I used to work there when I was 16 for eight years. It's so sad that it's going to close down.'
A message from the Editor, Mark Waldron