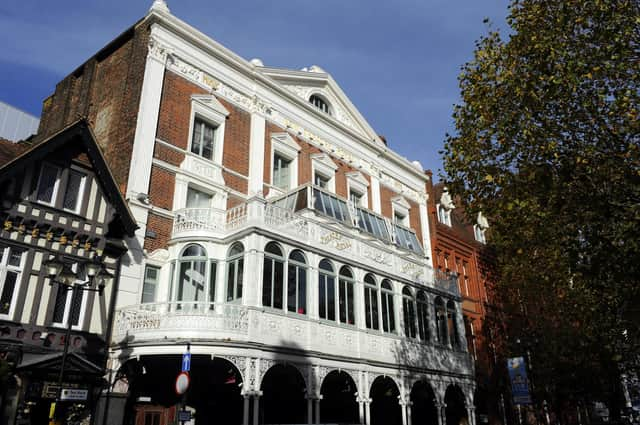 The New Theatre Royal in Guildhall Walk, Portsmouth. Picture by: Malcolm Wells (171030-7525)
The University of Portsmouth has said it is not able to 'maintain' its financial support to the New Theatre Royal, in the city centre, which today the city council agreed to buy, and is calling for changes to its relationship going forward.
According to the university, it is owed around £600,000 from grants following the theatre's refurbishment in 2015.
Portsmouth City Council has now bought the freehold of the theatre, with the intention of leasing it back to the New Theatre Royal Trust to allow it to keep operating post-pandemic.
A university spokesman said: 'We are happy to support the sale to Portsmouth City Council and to write-off at least 30 per cent of the amount the university is owed but have been clear in all of our discussions with New Theatre Royal and Portsmouth City Council that amendments to the lease and management agreement must be dealt with in advance of any sale of the building.
'These minor changes would address inappropriate access arrangements between the New Theatre Royal and the university's adjoining teaching space to provide a safe teaching and learning environment for our students and staff.
'The changes would also ensure that the theatre can continue as an arts and performance space, or as a venue consistent with the ethos and values of the university, should the ownership of the building change again in the future.'
He added that the university offered to buy the theatre last year to rent to the trust at a peppercorn rate.
But the trust has insisted debts will be taken into account going forward.
Trustee Will Purvis said: 'The New Theatre Royal Trust has been talking with the university for quite some time about amounts leftover from the rebuild.
'The university is an important partner to the theatre so we will continue to work with them to find the best way forward.'
He added: 'We are very pleased we have reached a deal with the council to allow us to keep running.'
The theatre closed in March due to the Covid pandemic.
A message from the Editor, Mark Waldron
You can subscribe here for unlimited access to Portsmouth news online - as well as fewer adverts, access to our digital edition and mobile app.
Our trial offer starts at just £2 a month for the first two months.