Debate over how to how best to protect our environment and The Solent
Havant councillors exchanged a heated debate surrounding a motion to address environmental issues in Langstone Harbour and The Solent.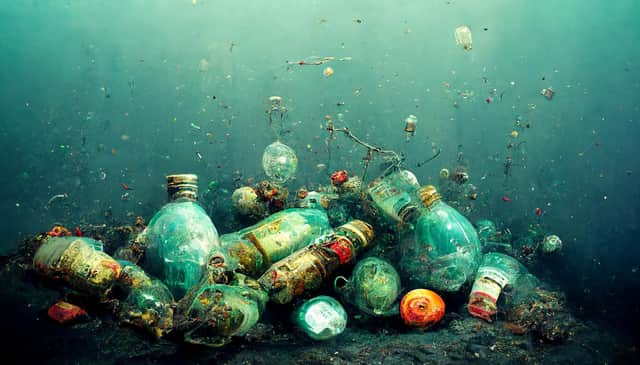 During a recent full Havant Borough Council meeting, members discussed a motion proposed by Councillor Elizabeth Lloyd which focused primarily on marine plastic pollution.
The 'Motion for the Ocean' was a revised version of the text originally authored by marine social scientist Dr. Pamela Buchan – to date 16 councils have approved it.
Introducing the motion, Cllr Lloyd said: "My hope is that the adoption of this motion will focus minds locally to dispose of our waste properly, not litter out streets and places of recreation such as parks and beaches and ensure we recycle as much as we can."
On behalf of the opposition, Cllr Grainne Rason proposed three amendments, calling into question the effectiveness of the listed pledges.
The first amendment called for regular updates to the climate and environmental panel regarding ocean recovery initiatives, which the original motion did not specify. The second sought to establish 'clear channels of communication' between the council and marine organisations, differing from the original text's mention of 'closer working'. The third proposed creating opportunities for residents of all ages to develop ocean literacy, expanding on the original motion's mention of opportunities 'where allowed.'
Cllr Rason also raised concerns about the motion's emphasis on plastic pollution over sewage discharges.
In response to the proposed changes, Cllr Lloyd said: "You're right, the motion concerns primarily plastic rubbish that ends up in the ocean.
"I believe I have stood in this chamber and taken all councillors through all communications that this council has undertaken to deal with Southern Water and its spillages into Langstone Harbour.
"We cannot commit to every six months because when you're actually working for this council you realise what a dynamic place it is, we have the mechanisms we have the organisation through which we will report and I assure you reports will be made.
"If you wish to go and engage with other organisations – please feel free to do that and please bring any actions, comments, other opportunities to the climate change and environment panel.
"We are not the education authority and we are only in a position to work with our school where the opportunity allows."
Opposition member Cllr Paul Gray, argued that the policy motion 'isn't new' and that it's been 'watered down significantly hence the need for these amendments'.
He said: "The original preamble included a paragraph which read urgent action is needed to halt devastating pollution caused through human activity and recover the health of the ocean – that was removed in full.
"Subtly but significantly the word 'ensure' in point four was replaced with the completely non-committal word 'influence'.
"On point seven the word 'where opportunities allows' to again present a completely non-committal get out of jail free card.
"I ask you to consider the amendments offered – they are moderate reasonable changes and the wording is significantly softer than the original policy motion."
After members voted against the amendments Cllr Neil Bowdell said he expected 'cross party agreement' and he regrets 'the politicking which has taken place'.
In response, Cllr Gray added: "I would ask that we consider that we can do better, this is not up to standard, it is too weak. It makes or presents us as a council which is not prepared to take responsibility to put our talk into policy motion."
Cllr Rennie, leader of the council 'wholeheartedly' disagreed with Cllr Gray stating: 'it's quite insane really that we're in this situation where we're bringing in a really positive motion'.
'It's simply trashed by the opposition, we here are taking the front foot forward.'
Cllr Mark Coates inquired Cllr Rennie, asking for the 'hard and fast' part of this motion which 'he thinks will make a difference'.
He added: "I think it's reasonable to see why this could be debated as regards to the hard edge it offers because without any disrespect I don't think it has one."
Cllr Coates' question went unanswered before members voted to approve the original motion which, in her closing remarks, Cllr Lloyd described as 'pertinent to us and our residents as a coastal borough'.