Historic seawalls in Southsea uncovered as sea defence work continues
HISTORIC seawalls in Southsea are set to be preserved for the future as work to protect the city from rising sea levels continues.
Thursday, 4th March 2021, 1:49 pm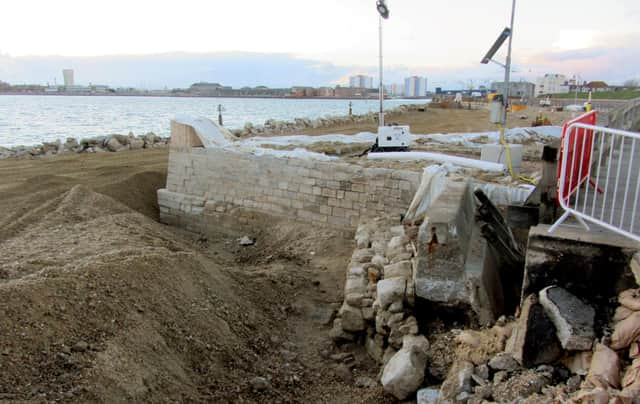 Areas of the wall that were exposed and concrete removed by hydro demolition
A specialised hydro-demolition technique is being used to remove concrete from the remains of 17th century walls that were discovered to the east of Spur Redoubt, in Long Curtain Moat.
It comes as work on the £100m Southsea Coastal Scheme which will replace existing sea defences from Long Curtain Moat to Eastney is under way.
Areas of the wall that were exposed and concrete removed by hydro demolition
The project's technical lead, Chris Koster, said: 'Since the Southsea Coastal Scheme started in September 2020, we've been committed to protecting the historic discoveries that have been uncovered during our works.
'Right now, we're using hydro-demolition which involves using high-pressure water jets to strip newer concrete from the remains of recently unearthed historic walls.
'This vibration-free method is ideal for the project as it's a very specific technique that only removes concrete from a targeted section, so it avoids damage to sensitive areas.'
Southsea team preserving historic walls
Once hydro-demolition is over, the exposed remains will be covered over after being surveyed and recorded by Wessex Archaeology, in consultation with Historic England and the County Archaeologist.
Since work on the defences began a series of historical discoveries have been made including an Edwardian promenade around Southsea Castle, 17th century sea defences under the Clarence Pier playing field and stonemasons signatures on a seawall by Long Curtain Moat.
The Southsea Coastal Scheme is the UK's largest local authority-led coastal defences' project, and will stretch for 4.5 kilometres along the seafront.
A message from the Editor, Mark Waldron
You can subscribe here for unlimited access to Portsmouth news online - as well as fewer adverts, access to our digital edition and mobile app.
Our trial offer starts at just £2 a month for the first two months.