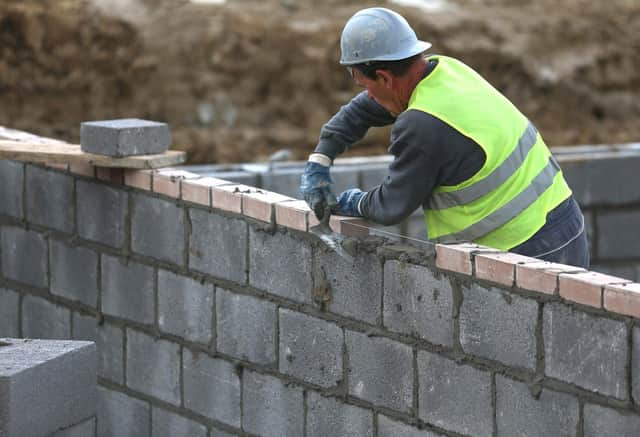 91 new homes could be build by Portsmouth City Council in Havant, to the 'greenest design possible' (Photo by Matt Cardy/Getty Images)
The city council is set to approve spending £26.8m on 91 new homes across Havant - of which 70 per cent will be used by people on Portsmouth s waiting list and the rest allocated to the borough council.
It is planned the dwellings will be built using the 'passive house' model, which utilises a unique ventilation system and extra-effective insulation to create an airtight home that can adjust to the seasons itself - reducing the need for heating.
Cllr Darren Sanders said the homes would be built to the 'greenest design possible'
Councillor Darren Sanders, the council's housing boss, said: 'There are more than 2,000 people on our waiting list and it's absolutely important that we have enough homes for them.
'With these developments it will be the first time we have trialled the passive house design, which is the greenest house design we can have.
'Not only will this help us reduce our carbon footprint but it will massively cut energy bills for the residents living there. It is my home that this design will be used on more new homes in the future.'
As part of proposals 63 new homes will be built at a cost of £18.7m at a site known as Strouden Court, and the other 28 dwellings will be built in several spots around Wecock Farm for £8.1m.
It is planned the homes will be rented at an affordable level.
The developments were welcomed by Portsmouth Green Party member Ian McCulloch. 'I would very much like to see the council commit to making sure passive housing is the standard for all their future builds,' he said.
'It's got the potential to reduce heating costs by 90 per cent.
'I'd like to see the council recognise that retrofitting all existing housing stock with this is vital to reducing the carbon footprint in Portsmouth.'
It comes after the council recently approved the £38m 150-home Cabbagefield Row development, which is also in Havant.
Portsmouth council will apply to Homes England for grants totalling £2.7m for the projects with the rest coming from unsupported borrowing.
The developments will be considered at a housing meeting on Monday, March 8.
A message from the Editor, Mark Waldron
You can subscribe here for unlimited access to Portsmouth news online - as well as fewer adverts, access to our digital edition and mobile app.
Our trial offer starts at just £2 a month for the first two months.