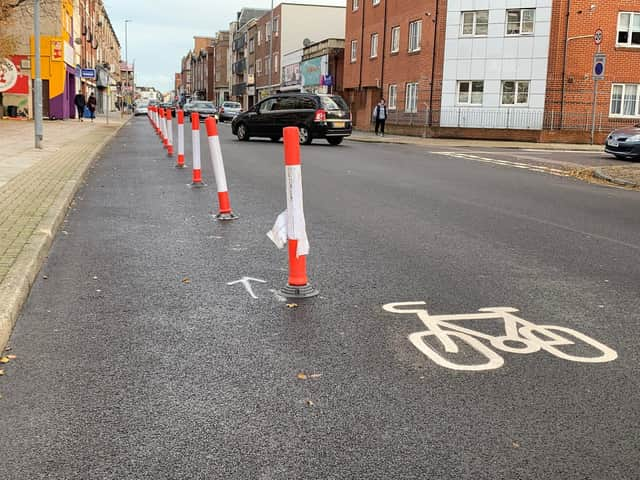 The temporary cycle lane in Elm Grove
According to figures from the Department for Transport (DfT) the city has the 16th highest amount of reported incidents involving cyclists being injured - with 74 per 100,000 people in 2019.
Overall there were 160 cyclist casualties last year, with 47 of those seriously injured placing it as one of the most dangerous areas out of 339 places in England and Wales. And the youngest casualty in the city was aged just four-years-old.
However, in line with the national trend there has been a slight reduction since 2016 when there were 171.
Ian Saunders, chairman of the Pompey Cycle Forum, had concerns that serious injuries had increased again and 'are now nearly double what they were only five years previously. '
'It's also important to be aware that these figures are based upon those incidents that are reported,' he said.
'As the council's own near-miss reporting tool highlighted in its first report, the number of incidents where cyclists perceive the roads to be dangerous with being involved in a collision are much higher than these.
'Despite the drop in casualty numbers in 2019 however, the trend remains upward over the last decade and this just highlights the necessity to create safe space for not only those cyclists currently using our roads, but also those, as seen during the spring lockdown, that are happy to cycle more when they feel that the road conditions are safe to do so.'
It comes as Portsmouth City Council closed several roads to cars during lockdown and installed a temporary bike lane along Elm Grove and Kings Road in Southsea to encourage cycling.
Mr Saunders hoped the council's new local transport plan would build on this and added: 'It is necessary to trial schemes such as those in Elm Grove so that the issues that affect all users can be identified and finding solutions rather than just guessing at what those might be as the transport system is developed further.'
However, the bike lane trial in Elm Grove was subject to controversy as many of its bollards have reportedly been deliberately removed by residents.
The council's transport boss, Councillor Lynne Stagg, said: 'We are trying to improve the cycling infrastructure but it's very difficult given the nature of Portsmouth roads.
'The problem here is the roads in Portsmouth are just not built for having cycling lanes as well as two-way traffic. We need to be able to reach a compromise between drivers and cyclists.'
Gosport was the 28th highest for casualties with 48 per 100,000 people in 2019 and Havant was 51st with 36. In Fareham there were 28 per 100,000 people and in East Hampshire there were 16. In the Winchester City Council area there were 23 per 100,000 in 2019.
A message from the Editor, Mark Waldron
The News is more reliant than ever on you taking out a digital subscription to support our journalism.
You can subscribe here for unlimited access to Portsmouth news online - as well as our new Puzzles section.