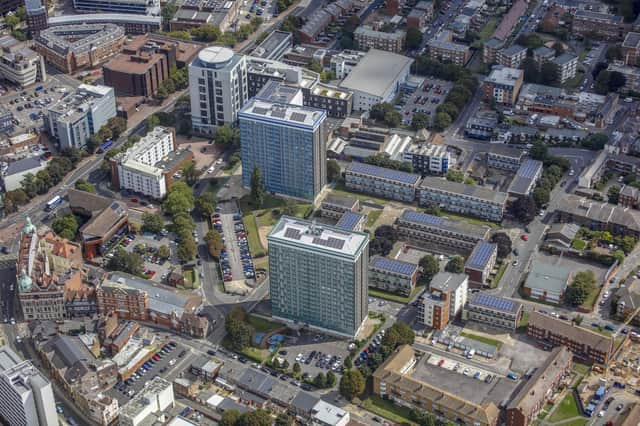 Leamington House and Horatia House are due to be de-constructed.
Following a 'more detailed assessment' Portsmouth City Council is confident the removal of Leamington and Horatia House in Somers Town will cost between £6m and £12m and take around 10 months.
Plans to bring the blocks down were approved in February last year after work to replace their Grenfell-style cladding revealed they were no longer safe to inhabit. As a result all 272 households were movedto new homes.
Portsmouth Councillor Darren Sanders at Leamington House in Earlsdon Street. Picture by: Malcolm Wells (180605-2128)
Original estimates at the time for de-construction - chosen instead of a 'risky' demolition - were priced between £5m and £6m.
Housing boss Councillor Darren Sanders said: 'Previous figures we had were an estimate which were created before we'd had a chance to carry out a detailed assessment of every part of the building for deconstruction.
'Now that's been done we are able to give a more accurate assessment.'
The council plans to build at least 272 social homes on the sites following the de-construction.
Last year a public consultation was held to ask residents what they'd like the new development to take into account.
The seven key priorities for the public were noted as building appropriate homes, making better use of green space and space for children, no more student accommodation, consider wider area improvements, better parking options, no tower blocks and re-providing the social housing lost.
Cllr Sanders added: 'We have taken on board all these points because they are what people want.
'The scheme of course has to be financially viable. We do not want fewer socially rented homes at the end of this project than there were. Everything I have seen says that replacing all 272 social homes will be likely.
'From the feedback we learnt that some people said they don't like going to Somers Town. So we have got a chance to make the place better. Somers Town has seen so many plans over the years, some great ideas.
'Now things are actually moving forward I am delighted. This is a real opportunity to make an attractive place that people want to go to.'
It is thought some of the cost of the de-construction could be covered by a small sites grant from Homes England.
Work will begin once a contractor is found.